Tamer Çavuşgil, member of Sabancı University Board of Trustees, Cüneyt Evirgen, Director of Sabancı University Executive Development Unit (EDU), and Mithat Üner, Dean of Atılım University School of Business wrote an article to evaluate the globally successful expansion of Getir.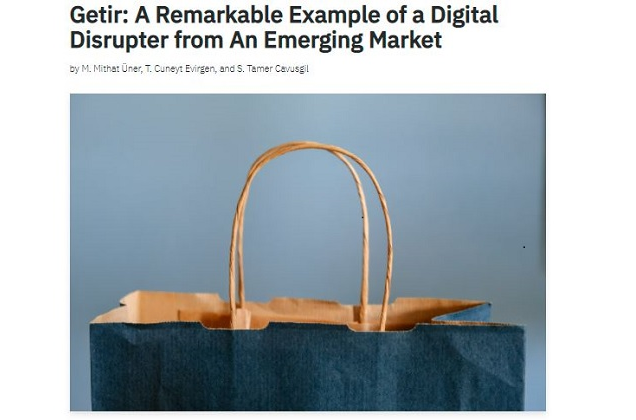 Published online in California Management Review Insights Journal of University of California-Berkeley Haas School of Business, the article attracts attention to the fact that as a 6-year-old digital start-up, Getir wrote a new success story in digital world, and highlights the elements underlying this success. 
The article features a special interview with Mert Salur, Chair of Getir's Board of Directors. Cüneyt Evirgen shared the following assessments about Getir: "Getir achieved international expansion and attracted a great deal of investment from the world of venture capital to become a "unicorn" in a short period of time and gain worldwide acclaim. Another thing that makes Getir a remarkable initiative from the perspective of current business models is that it uses data analytics to a great extent.
Entrepreneurial initiatives particularly from emerging countries tend to be very interesting and didactic for the international business world. It is essential that such cases should be heard, announced and talked about so that they can encourage other entrepreneurs in addition to being examples to learn from. In addition, we find this case particularly valuable since it will contribute to strengthening the bridge between academia and the business world."
Highlighting that Getir is a great story of entrepreneurship and self-confidence, which comes with a strong human-centric approach to the company's management and operations promoted by the company's shareholder, Evirgen said, "For example, the company provides private health insurance to their delivery drivers, which is unprecedented in the delivery business. As happy employees mean happy customers, Getir enhances both employee retention and customer satisfaction."
You can access the full text of the article from the link below:
https://cmr.berkeley.edu/2021/09/getir-a-remarkable-example-of-a-digital-disrupter-from-an-emerging-market/