CDP, the world's biggest environmental reporting platform, of which Sabancı University Corporate Governance Forum is the partner in Turkey, held the CDP Turkey 11th Climate Change Virtual Conference and Award Ceremony on Wednesday, March 31. Garanti BBVA was the main sponsor of CDP Turkey and Deloitte Turkey was the report sponsor. The CDP Climate Change & Water Report - 2020 Turkey Results and CDP Turkey Leaders were announced at the conference, during which CDP Turkey's work in the past year was also presented.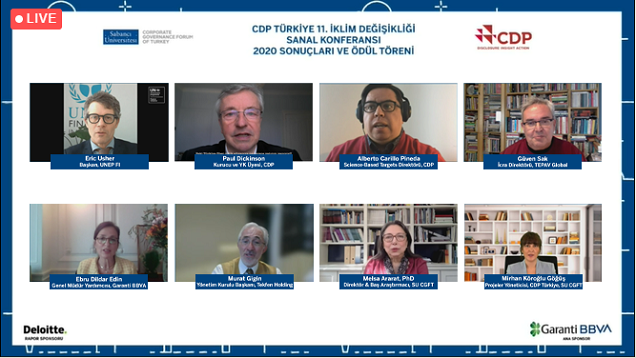 Delivering the opening address at the conference, Melsa Ararat, Director and Principal Researcher of Sabancı University Corporate Governance Forum said, "I expressed my concerns that the pandemic spreading around the whole world around this time last year might shift global attention away from addressing climate change. This has not been the case. On the contrary, the pandemic and the fight against it have shown that viewing global systemic risks from the perspective of national interests might lead humanity to catastrophes, and proven importance of international cooperation for handling global risks. While it is generally accepted that global warming and environmental deterioration have given rise to the circumstances under which the pandemic was born, post-pandemic economic strategies are anchored in green recovery that aims to decarbonize the economy thanks to the convergence of climate policies of the EU and the US. Turkey has also responded to this global wave. A record number of Turkish companies made climate change and water-related disclosures to their investors and stakeholders through the CDP. Going forward, I hope the Paris Agreement and the New Green Deal will be a guide for all countries including Turkey, and all companies will adapt their competition strategies to the new requirements and set science-based targets, albeit belatedly."
The main speaker of the event, Eric Usher, Head of the United Nations Environment Programme Finance Initiative (UNEP FI) said, "looking into the future should now be the top priority for companies, because you are expected, from now on, not only to understand the type of risks you are to face, but also predict risks in sectors and supply chains in which you operate. We should better understand where the risks lie, and make risk models and scenario analyses to understand how sectors will evolve going forward. Nowadays, the only thing that does not change is change itself."
Announcing the CDP Climate Change & Water Report 2020 Turkey results, Mirhan Köroğlu Göğüş, Sabancı University Corporate Governance Forum - CDP Turkey Projects Manager, pointed out that although all the companies in Turkey declared that they integrated climate change in their business strategies, only 72% of them carried out a climate change scenario analysis. Göğüş added that, "according to the 2020 results, setting emission reduction targets has become standard business practice for companies in Turkey, but companies should deploy more efforts to implement science-based actions, which are key to the Paris Agreement." Regarding companies' risk assessments about water, Göğüş said, "according to the 2020 report, companies exposed to water risks are supposed to make risk assessments covering all their operations including direct operations and value chains. However, only 35% of companies in Turkey have reached this high standard. The world's water crisis is growing day by day. The potential financial impact of identified risks in the direct operations of companies in Turkey is US$733 billion. This figure may be an underestimate, however, as 44% of respondents failed to provide financial values of the risks they face."
During the conference, a panel with the theme "Towards a Net-Zero Sustainable Economy: The Role of Markets & Public Policy Interface" was held with the participation of Alberto Carillo Pineda, Director of Science-Based Targets at CDP, Güven Sak, Global Managing Director of TEPAV, and Melsa Ararat, Director and Principal Researcher of Sabancı University Corporate Governance Forum.
CDP CELEBRATES ITS 20TH ANNIVERSARY
Delivering a speech at the ceremony, Paul Dickinson, Co-Founder and Executive Chair of CDP mentioned that CDP celebrated its 20th anniversary and continued, "Everybody agrees that a green recovery is essential, and CDP disclosure forms the basis of such green recovery. I hope more companies will disclose to CDP in the next 20 years, and take necessary actions to avoid the devastating effects of environmental risks. I sincerely thank all the companies, to start with those included in the Global A List, for having responded to CDP's Climate Change Program this year."
GARANTI BBVA AND TEKFEN HOLDING ARE ON THE CDP GLOBAL A LIST
According to the CDP methodology, one of the most reliable scoring methodologies in the world, companies included on the A and B Lists are those leading on environmental transparency and action. In 2020, the number of companies on the A and B Lists in Turkey on climate is 36 and on water is 29 in total. These numbers are steadily increasing year by year.
In Turkey, Garanti BBVA made the CDP Climate A list and Tekfen Holding achieved a 'double A' score for Climate and Water, becoming one of the 63 companies in the World to do so.
Making a statement on the subject, Ebru Dildar Edin, Executive Vice President of Garanti BBVA said, "As Garanti BBVA, we continued to make ground-breaking projects in the field of climate change, sustainable development and finance during the last year, which was heavily marked by the pandemic. We are proud of being the only bank in Turkey making the Global A List despite the challenging conditions of the last year. As the main sponsor of CDP Turkey, we will continue to strive for acceleration of the transition to a low carbon economy in our country, and do our best to ensure that such a transition is a fair one. I hope the next decade will be a decade of ambition, determination and action for climate change."
Murat Gigin, Chairman of the Board of Tefken Holding said, "On behalf of my company and my country I would like to express that I am extremely excited and really proud of being one of the 63 companies in the world to achieve a 'double A' score for the Global Climate and Water Programs in such a period of never-ending disaster scenarios. And I want to reiterate my belief that we are not without hope, and that we can do it if we want to."
13 companies in Turkey receiving an 'A-' score in the Climate Change and Water categories managed to be named on the CDP Turkey Leaders list. In 2019, only 6 companies managed to do so. Within the framework of its 'Supplier Engagement Rating' (SER), CDP provides a rating for how effectively companies are engaging their suppliers on climate change. In Turkey, 3 companies were assigned an 'A' score and became leaders in the SER category, while 11 others achieved an 'A-' score.
On the occasion of the event, the award-winning companies were announced. They include Arçelik, Brisa, Kordsa, which were named Climate Change and Water Leaders. In the Climate Change category, the leaders were Albaraka Türk, Aselsan, Pegasus, T. İş Bankası, T. Kalkınma ve Yatırım Bankası, while Aksa Akrilik, Eti Soda, Migros, Pınar Süt and Yapı Kredi Bankası became Water Leaders. Arçelik, Brisa and Garanti BBVA were Supplier Engagement Rating Global Leaders.
CDP Turkey leaders were each asked a question regarding their sector and leadership category, and their answers were shared during the "Questions and Answers" session at the award ceremony.
The CDP 2020 Turkey full report can be accessed at https://cdpturkey.sabanciuniv.edu/tr/content/cdp-turkey-2020-raporu.
Video footage of the event can be accessed on CDP Turkey's website at https://cdpturkey.sabanciuniv.edu/