CDP, the world's biggest environmental reporting platform, of which Sabancı University Corporate Governance Forum has been the partner in Turkey since 2010, held the 12th Climate Change Virtual Conference and Award Ceremony on Tuesday, April 19, 2022. Garanti BBVA was the main sponsor of the conference, during which CDP Climate Change & Water Program 2021 Turkey Results and CDP Leaders were announced.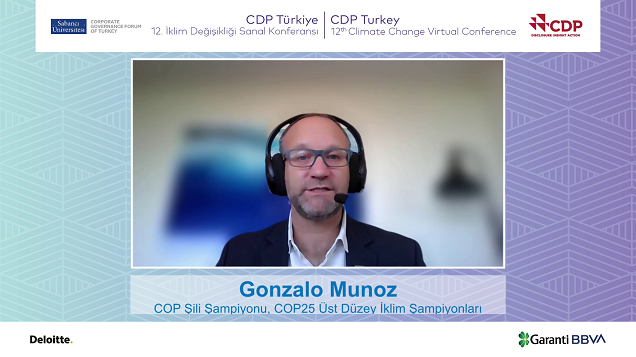 The main speaker of the event, Gonzalo Muñoz Abogabir, High Level Climate Action Champion for the 25th Conference of the Parties (COP25), pointed out that he became more and more aware of the fact that for the private sector the cost of not acting about climate change was much higher than the cost of acting. He continued: "I know that companies in Turkey that disclose their environmental data have made remarkable progress this year in terms of Supplier Engagement Rating, which indeed shows that we are on track in terms of the progress we need to make to solve the climate crisis. Companies should not only evaluate their own environmental impact, they should also ensure that their suppliers act about it. We need to make more room for energy transition, electric vehicle technology, sustainable cities, green hydrogen and ammonia, smart agriculture, public and private partnerships, and the circular economy. After a voluntary commitment, we should adapt to the power of money and move from voluntary commitments to regulatory commitments by learning, improving, and disclosing environmental data. This is a very important moment for the private sector to assume climate responsibility and climate solidarity, and for the state to accelerate the cycle of ambition".
THE MOST FREQUENTLY REPORTED TYPE OF RISK IS ABOUT REGULATIONS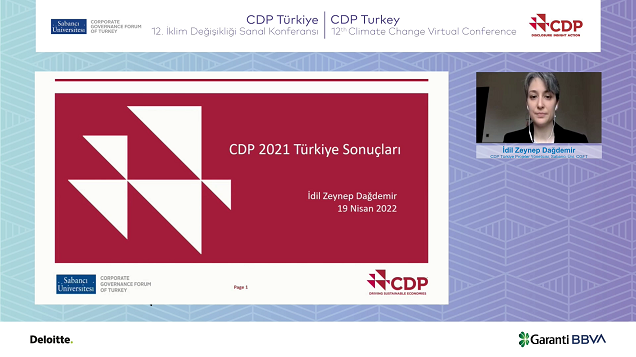 Announcing CDP Climate Change & Water Program 2021 Turkey Report results, İdil Zeynep Dağdemir, CDP Projects Manager of Sabancı University Corporate Governance Forum, noted that the number of companies in Turkey responding to CDP Climate Change Program and Water Program continued to increase in 2021. She continued:
"Board-level oversight of climate-related issues in companies is growing year by year. The companies that include climate-related issues on the agenda at every board meeting increased from 18 companies, representing 33% of the total number of companies last year, to 34, or 53% this year. The rate of climate change-related risks with a direct effect on companies' activities is increasing every year. In 2021, 97% of disclosing companies in Turkey identified risks related to climate change. Almost all companies are now aware of the risks posed by climate change and are developing various precautionary mechanisms. At the point where the business world has reached, the full involvement of corporate governance about the climate crisis has created a new business normal. The most frequently reported type of risk is about regulations (77%). Regulations were the most reported type of risk last year too, with 65% of companies reporting these. This remarkable increase from 65% to 77% can be attributed to the fact that the government's climate policy was uncertain until the ratification of the Paris Agreement in the Turkish Grand National Assembly in October 2021. For companies, identifying opportunities in the transition to a low-carbon economy is just as important as the identification of risks. The overwhelming majority of companies now set emission reduction targets. The rate of companies that set at least one emission reduction target in 2021 is 91%. The rate of companies that provide detailed information on their emission intensity targets and disclose their progress in these targets increased from 11% to 23%".
Regarding companies' risk assessments about water, İdil Zeynep Dağdemir said the following: "Although 98% of companies reporting in Turkey report that they have made a water-related risk assessment, only 27% of companies reported that water has detrimental effects on their operations. The fact that this figure is so low indicates that companies are not addressing all aspects of water safety in their risk assessments".
TURKEY IS AMONG THE LEADING COUNTRIES IN TERMS OF REPORTING QUALITY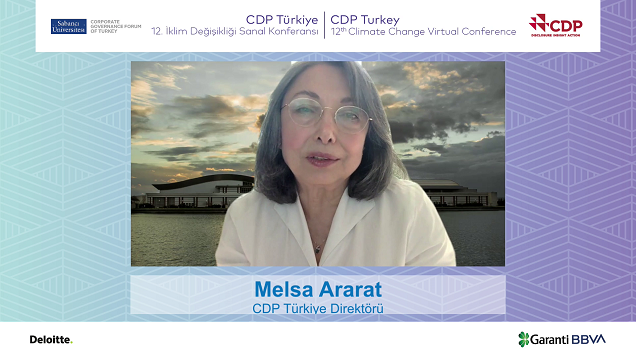 Evaluating the CDP Climate Change and Water Report 2021, Prof. Dr. Melsa Ararat, CDP Turkey Director, said, "Among the 117 countries covered by the CDP, Turkey is among the 20 most transparent countries where companies make the most comprehensive disclosure on climate change and water security. The rate of companies that make disclosures about 80% of 24 indicators in their statements is 33%, which puts Turkey in third place after Japan and Taiwan among 20 countries. This picture, which is a result of the joint efforts of the business world and CDP Turkey, shows that the business world is ready and willing for more brave public policies in the implementation of the Paris Agreement".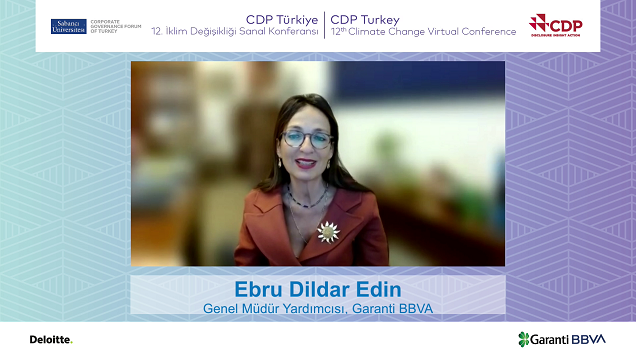 Delivering the opening address of the conference, Ebru Dildar Edin, Executive Vice President of Garanti BBVA, said the following: "We are aware of the critical role of the finance sector in the green transformation journey, and as Garanti BBVA, we will continue to support this transformation with determination, regardless of the customer segment, in our capacity as a financing institution and our role as a consultant". She continued: "We will further increase our efforts for the development of the local sustainable finance market in the coming days not only for our customers, but also for all our stakeholders. Last year, as an institution, we not only made disclosures for indices, but also strengthened our commitment to these processes with the Garanti BBVA Climate Index, which was implemented for the first time in Turkey by a bank with a sustainability focus. With this index, which we implement in cooperation with Borsa İstanbul and CDP Turkey, of which Sabancı University Corporate Governance Forum is the partner in Turkey, we aim to encourage companies to develop the sustainable finance market and increase their transparency regarding climate risks and opportunities. We believe that, thanks to this index, Turkey's companies that are resilient to climate change, aiming to reduce and finally eliminate emissions in accordance with the targets predicted by science, will get on international institutional investors' radar and will be instrumental in attracting additional foreign investment to Turkey. As one of the first institutions to respond to the call to the business world for transparency by CDP Turkey, which started its activities under the umbrella of Sabancı University Corporate Governance Forum, I would like to thank all companies that responded to the CDP and demonstrated their transparency and determination in the fight against climate change. I congratulate our leading companies and hope that this positive effect will expand in the coming years".
During his closing speech at the conference, Dr. Ata Can Bertay, Director of Sabancı University Corporate Governance Forum, highlighted that Turkey was one of the prominent countries within the CDP in terms of reporting, adding that the clear climate change policies introduced by the Paris Agreement would increase the number of companies reporting to the CDP in Turkey. Dr. Bertay urged all companies in Turkey to make disclosures in the coming years and stated that they were ready to guide them together with Sabancı University CGF and CDP.
AWARD-WINNING COMPANIES WERE ANNOUNCED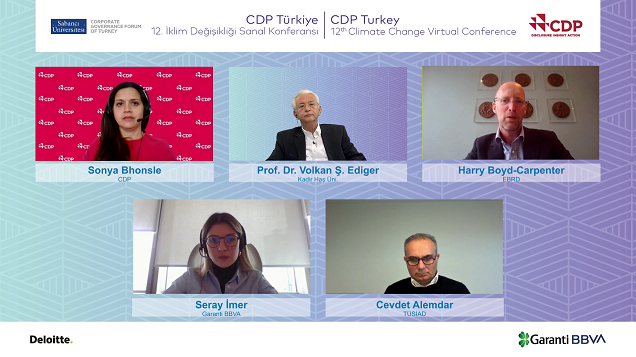 The panel entitled "The End of Uncertainty in Public Policies and the New Business Normal" organized in the framework of the conference was moderated by Prof. Dr. Volkan Ş. Ediger, Director of the Center for Energy and Sustainable Development at Kadir Has University. Panel participants included Sonya Bhonsle, Global Head of Value Chains & Regional Director at CDP, Harry Boyd-Carpenter, EBRD's Managing Director for Climate Strategies, Seray İmer, Sustainable Finance Manager at Garanti BBVA, and Cevdet Alemdar, TÜSİAD's Chair of Energy, Environment, and Climate Change Roundtable, and Board Member.
11 companies in Turkey receiving an 'A-' score in the Climate Change and Water categories managed to be named on the CDP Turkey Leaders list. In 2020, 16 companies managed to do so. Within the framework of its 'Supplier Engagement Rating' (SER), CDP provides a rating for how effectively companies are engaging their suppliers on climate change. In Turkey, 8 companies were assigned an 'A' score and ranked among global leaders in the SER category.
On the occasion of the event, the award-winning companies were announced. In the water category, Eti Soda, Kordsa Teknik Tekstil and Tekfen Holding made the CDP Global A-list. In addition, Arçelik, Brisa Bridgestone, Kordsa Teknik Tekstil, Tekfen Holding and Eti Soda were included in the CDP Climate Change Program Turkey Leaders. In the CDP Water Program, Aksa Akrilik Kimya, Arçelik, Aselsan, Brisa Bridgestone, Coca-Cola, and Yapı Kredi Bank became Turkey Leaders.
Arçelik, Brisa Bridgestone, Coca-Cola, Ekol Lojistik, Ekoten Tekstil, Eti Soda, Korsa Teknik Tekstil and Osmangazi Elektrik Dağıtım were assigned an 'A' score and became Supplier Engagement Rating Global Leaders.
You can reach the CDP Climate Change & Water Program 2021 Turkey Results report from this link .