CDP, the world's biggest environmental reporting platform, of which Sabancı University Corporate Governance Forum has been the partner in Turkey since 2010, will hold the 12th Climate Change Virtual Conference and Award Ceremony on Tuesday, April 19.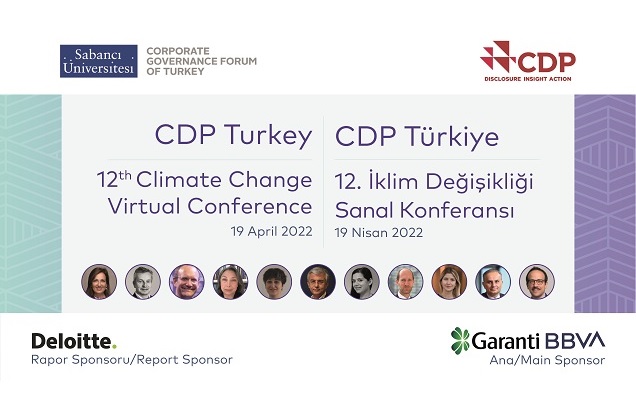 Garanti BBVA is the main sponsor of the conference during which CDP Turkey's work in the past year will be presented. The conference will start with the opening speeches of Ebru Dildar Edin, Executive Vice President of Garanti BBVA, and Paul Dickinson, Co-Founder and Executive Chair of CDP.
Gonzalo Muñoz, High Level Climate Action Champion for the 25th Conference of the Parties (COP25) will be the main speaker of the event. Following the presentations about CDP Turkey's 2021 results, a panel entitled "The End of Uncertainty in Public Policies and the New Business Normal" will be held. The conference will end after CDP Award Ceremony and closing speeches.
The CDP Turkey 12th Climate Change Virtual Conference and Award Ceremony Program
15:00 – 15:15 Opening Speeches
                                Ebru Dildar Edin, Executive Vice President, Garanti BBVA
                                Paul Dickinson, Co-Founder and Executive Chair, CDP
15:15 – 15:30  Keynote Speaker
Gonzalo Muñoz, High Level Climate Action Champions for the 25th Conference of the Parties (COP25) in Chile
15:30 – 15.45 Interpretation of CDP Climate Change and Water Report 2021
Prof. Dr. Melsa Ararat, CDP Turkey Director
15.45 – 16:00 CDP Climate Change and Water Report 2021 Results
İdil Zeynep Dağdemir, CDP Projects Manager, Sabancı University Corporate Governance Forum
16:00 – 17:00 Panel: The End of Uncertainty in Public Policies and the New Business Normal
Moderator: Prof. Dr. Volkan Ş. Ediger, Director of the Center for Energy and Sustainable Development, Kadir Has University
Sonya Bhonsle, Global Head of Value Chains & Regional Director, CDP

Harry Boyd-Carpenter, Managing Director, Climate Strategies, EBRD 

Seray İmer, Sustainable Finance Manager, Garanti BBVA

Cevdet Alemdar, Chair of Energy, Environment, and Climate Change Roundtable, Board Member, TÜSİAD
17:00– 17:15 CDP Turkey 2021 Award Ceremony
17:15 – 17:20 Closing Speech
Dr. Ata Can Bertay, Director, Sabancı University Corporate Governance Forum