The Sustainable Stories Webinar Series, organized in the scope of the Global Hope Festival and started with the mission to raise awareness about sustainability, continued with the webinar entitled "Carbon-Neutral Future". In the second part of the webinar, Sabancı University Corporate Governance Forum - CDP Turkey Projects Manager Mirhan Köroğlu Göğüş and Sabancı University Istanbul International Center for Energy and Climate (IICEC) Director Bora Şekip Güray took part as speakers.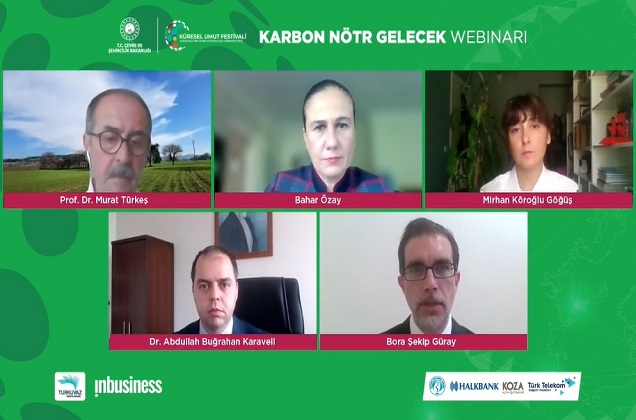 Sharing his opinions during the webinar, realized under the leadership of Turkuvaz Media Group and the new economy magazine, InBusiness, Mirhan Köroğlu Göğüş drew attention to the approaches of companies to climate change. Stating that they had formed CDP Turkey under the umbrella of Sabancı University Corporate Governance Forum since 2010, Göğüş said, "We can see that companies are becoming more aware not only of the climate change but also water management. Especially for the last 10 years, companies have had to adopt a different approach. For those companies that realized this transformation quickly, climate change became an opportunity, not a crisis".
Companies continue their CDP disclosures despite Covid-19
Pointing to the increase in the number of companies responding to the CDP's calls, Göğüş continued, "We can see that the respondents from Turkey continue to disclose their environmental impact to their investors and stakeholders through the CDP in a transparent way. They also enhanced the quality of disclosures and started to set long-term targets. There are considerable performance differences among companies that do and do not respond to the CDP's calls. We have seen that, despite the Covid-19 pandemic, companies continued their CDP disclosures in Turkey and in the world. 9,600 companies in the world made CDP disclosures and 60 companies in Turkey responded to CDP disclosures.
Speaking at the webinar, IICEC Director Bora Şekip Güray made assessments about what kind of opportunities Turkey could create in the field of energy and what kind of path should be drawn for a mostly clean energy future. Güray talked about secure and clean energy-focused findings and the recommendations of the Turkey Energy Outlook study, the modelling infrastructure and scenario analysis of which were realized by IICEC. He added that, according to the study, energy-driven total emissions could reach a peak before 2040 that, in terms of carbon intensity, a one-third reduction on the last year's figure could be achieved by 2040, and that technological developments and growing awareness about clean energy promised much more than these developments.
Turkey has very important clean energy potential
Providing information about what the roadmap should be for a cleaner energy future and underlining the importance of electric vehicles, hydrogen and other technologies aimed at decreasing carbon intensity and energy efficiency, Güray continued, "As we all know, an element that distinguishes us from Western countries is that we are an emerging energy economy. Energy demand has the potential to grow. Although this situation presents challenges for energy transformation, it is also an opportunity. Turkey has very important clean energy potential. Turkey's energy consumption per capita is half that of developed countries. Especially, electrification is a very important trend in Turkey. The future of energy will be shaped around electrification".