Sabancı University Center of Excellence in Finance (CEF), founded under the sponsorship of Akbank, will host Pedro Matos, faculty member at the University of Virginia Darden School of Business at a seminar entitled "ESG Investments".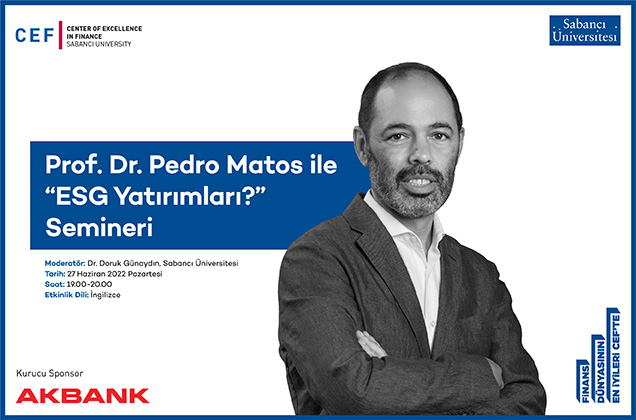 The main speaker of the seminar, which will be broadcast live on CEF Youtube channel  on Monday, June 27, 2022, Professor Pedro Matos will present his research focusing on the responsible investment practices of institutional investors around the world, and will share his findings in addition to a recent study examining how institutional investors are "decarbonizing" their portfolios in response to the climate crisis.
The seminar will be moderated by Dr. Doruk Günaydın, member of Sabancı Business School.
The language of the seminar, which will take place between 19.00 and 20.00 Turkish time, will be English.
About Pedro Matos
Pedro Matos is the academic director of the Richard A. Mayo Center for Asset Management, holds the John G. Macfarlane Family Chair in Business Administration and is a professor of business administration (Finance) at the University of Virginia Darden School of Business. His research focuses on the growing importance of institutional investors in financial markets worldwide. Matos is a research associate at the European Corporate Governance Institute (ECGI), and a member of PRI (Principles for Responsible Investment), a UN-supported international network of investors. Matos holds a B.A. in economics from Nova University in Lisbon (Portugal) and a Ph.D. in finance from INSEAD in Fontainebleau (France).  He previously taught at the University of Southern California.