Sabancı University Center of Excellence in Finance (CEF), founded under the sponsorship of Akbank, starts its new certificate program titled "Behavioral Finance – Theory and Practice"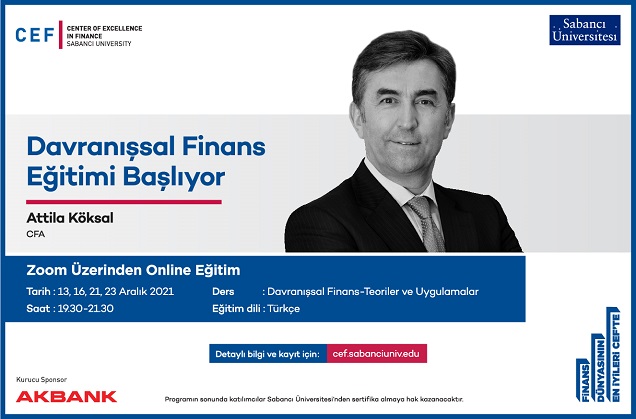 Behavioral finance is a relatively new but quickly expanding field that seeks to provide explanations for people's financial decisions by combining behavioral and cognitive psychological theory with conventional economics and finance. 
Neoclassical economics assume that; i) all individuals act rationally to maximize their utility for both monetary and non-monetary gains, and ii) markets are fully efficient and prices reflect all available, relevant information for all asset classes. However, in reality, these assumptions often do not hold. Behavioral finance helps explain why and how markets may be inefficient, why people are imperfect processors of information and why they are often subject to biases, errors and perceptual illusions. 
The educational program, which will be lectured by Attila Köksal, an instructor at Sabancı University, aims to be a guide to understanding the fundamentals of behavioral finance and reasons and effects of irrational investor behavior.  Throughout the program, psychological biases that effect the financial decision-making process and their impacts on financial markets and on people's lives will be examined.
The course will be supported by real-life case studies, analyses of investor behavior, cases of behavioral interventions to modify investor behavior and a Q&A session with an investment practitioner.
The course will be held online. For more information please click here.
***
About Attila Köksal
Attila Köksal graduated from the Mechanical Engineering Department of Boğaziçi University in 1983 and received an MBA degree from Philadelphia Drexel University in 1985. He began his investment banking career at the Center for International Financial Research Inc. in Princeton, NJ. Throughout his career, he held managerial positions in a number of Turkish banks, brokerage houses and asset management companies. Mr. Köksal served as the Chairman of the Board of Directors of the Turkish Capital Markets Association between 2011 and 2014. He also held board positions at the Turkish stock exchange (Borsa İstanbul) and at the derivatives exchange of Turkey (VOB A.Ş.).
He also served six years on the global board of the CFA Institute. He is currently a member of the board of directors of Turkish Digital Technologies A.Ş., a subsidiary of Turkish Bank, Türk Sigorta and WWF Turkey. He has been the Chairman of the Board of the Financial Literacy and Inclusion Association (FODER) since April 2019.
Mr. Köksal co-authored two books under the "Geleceğe Yatırım – Investing for the Future" series. These books aim to educate teenagers and families on savings and investments. His latest book, "Parasal Konularda Yaptığımız Hatalar – What We Do Wrong On Monetary Matters" depicts the negative effects of behavioral biases and the lack of financial literacy on our financial decisions. Mr. Köksal designs and delivers courses and lectures on investments, financial advisory and asset management. He has been on the advisory board of the Masters in Finance program at Sabancı University since 2011. He also teaches a Behavioral Finance course at Sabancı University.