Sabancı University Civic Involvement Projects was at the Hatay Payas STEM Artificial Intelligence Center to work with children affected by the earthquake in the Discover Yourself Project. The project took place between 10-14 July and was attended by 4 volunteer students from Sabancı University and 30 primary school students from Hatay.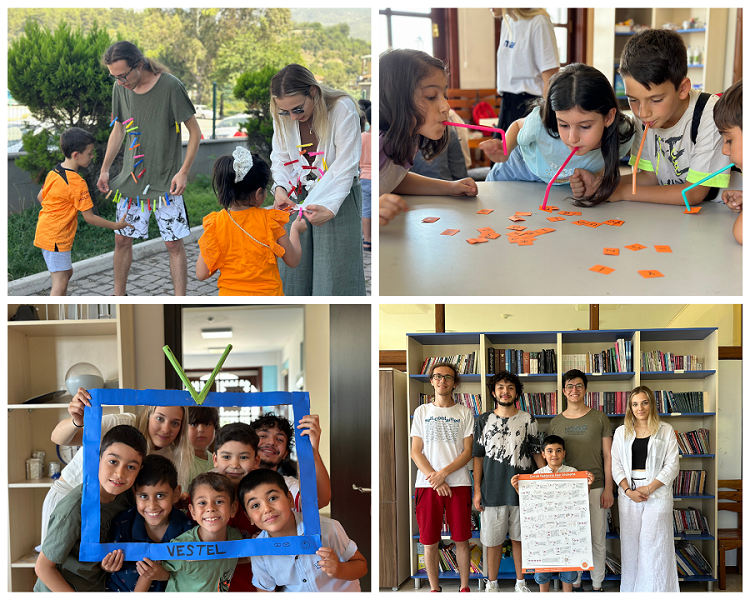 In the project, trainings were provided on subjects such as children's rights, approach to people with disabilities, gender, cultural interaction, conflict-reconciliation-peace, artistic activities, general culture and verbal skills in order to develop children's creativity and increase their self-confidence.
Volunteer students from Sabancı University shared their experiences in the Discover Yourself project as follows:
"I learned to get in close contact with people from different cultures by overcoming prejudices and worries on my journey to Hatay. While working with children, I developed my empathy and creativity by looking from their perspective. The children who experienced the earthquake surprised me with their ability to hold on to life. As my taboos were broken and my understanding expanded, I realized that this experience matured me. The support of my teammates was unforgettable. This journey left a mark on my life by meeting new people and made me say 'I discovered myself.'" (Ekin Savaş, 2nd Year Industrial Engineering Student)
"I think the best part of this project is that it 'makes a difference' in every person it influences, just like the motto of CIP. When you spend a week with the same children, you realize that they all have a different world. In fact, these children allow you to take a tour of their world in the pictures they make and the questions they ask. Trying to understand how people in the earthquake area felt, listening to their stories and living in similar conditions with them developed my empathy." (Hüseyin Avşar, 2nd Year Computer Science Student)
"Discover Yourself was a dream that I aimed for throughout my school life. I wanted to experience the memories and experiences told by the people who participated in the project. I learned to think multidimensionally in the project and my awareness increased. It opened the door to good friendships, good experiences and a different world for me." (Ulaş Noyan, 4th Year Computer Science Student)
"Discover Yourself will remain in my mind as pure love. It felt very good to play with the children, to be involved in their learning processes, and above all to be able to get them away from their environment for a week. We came back to Istanbul with what we learned from them. Thanks to children, we rediscovered how easily pure love can be shown." (Baran Gül, 3rd Year Industrial Engineering Student)
In addition to ongoing projects during the academic year, projects named as "Discover Yourself" are carried out outside of Istanbul during the semester and summer holiday. Discover Yourself Projects have been held more than 50 times in 30 cities since 2000. The projects will continue at Ayvalık Küçükköy Creative Technologies Atelier in September.