Sabancı University Gender and Women's Studies Center of Excellence (SU Gender) is organizing a new conversation series in collaboration with the international guest artist program Gate 27. Maja Bekan, Nour Shantout and Dominique Hurth, guests of Gate 27, who continue their work in the fields of gender, feminism, and migration, will meet the audience in the conversation organized by Gate 27 and SU Gender.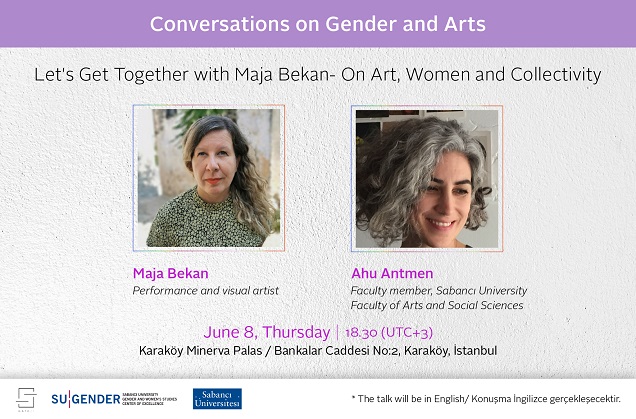 The first session of the event series titled Conversations on Gender and Art will take place on Thursday, June 8, 2023 at 18.30 in Karaköy Minerva Han with Maja Bekan, in English. The facilitator of the event is Ahu Antmen, a member of the Gate 27 Advisory Board and Sabancı University Faculty of Arts and Social Sciences.
Hosted at Gate 27 between June 5 and July 16, 2023, artist Maja Bekan aims to conduct research and interviews on strong female figures in Türkiye. On the other hand, as an extension of her long-standing practice around the theme of "collective intimacy", she aims to work on the role of collective intimacy in social and political transformation through various forms of togetherness. She plans to share her findings in these fields with the audience by organizing various workshops in which she uses performance art as a tool, and to open up space for new knowledge production through the outputs of this process.
The artist, who will answer Ahu Antmen's questions in addition to sharing her own art practice within the scope of the event, seeks ways to incorporate unique life experiences into her works by meeting with different audiences.
---------------------------------------------------
Conversation on Gender and Arts I
June 8, Thursday / 18.30 (GMT+3)
Let's Get Together with Maja Bekan- On Art, Women and Collectivity
Facilitator: Ahu Antmen
Minerva Palas, Karaköy
* The talk will be in English.