Sabancı University signed an agreement with TEI to develop composite engine parts.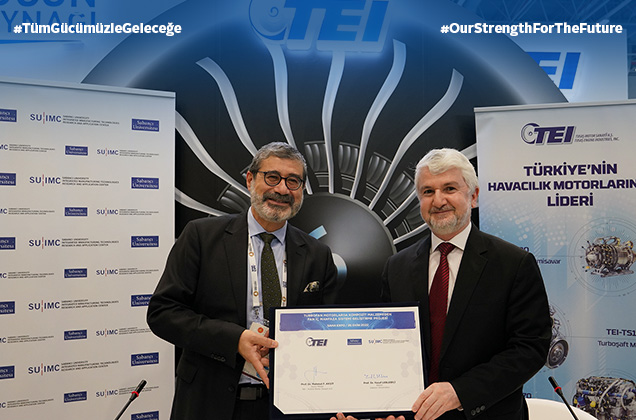 Within the scope of the agreement signed by TEI General Manager Prof. Dr. Mahmut F. Akşit and Sabancı University President Prof. Dr. Yusuf Leblebici, the "Fan Inner Casing System Development Project from Composite Material in Turbofan Engines" will be carried out at the Sabancı University Integrated Manufacturing Technologies Research and Application Center (SU IMC). 
While the use of composite material technology in aviation engines provides a competitive solution by enabling lightweight engine design, it also provides a major advantage by providing greater strength. The use of composite materials in aviation engines is becoming widespread thanks to developing manufacturing technologies. 
Speaking at the signing ceremony, TEI General Manager Prof. Dr. Mahmut F. Akşit noted that they have been carrying out a range of different projects with Sabancı University for many years, especially in the field of additive manufacturing, and that the works to be carried out in the context of this agreement will take the cooperation between the two institutions to the next level. Akşit said that the parts produced in the aviation industry are especially difficult and complex, and that they have achieved important outputs as a result of the hard work of all the teams involved in the projects they carried out with Sabancı University. Akşit continued: "The project for the development of this system, which will be used in Turkey's most powerful engine, will be an important step on this path, on which we will move towards more challenging projects". 
Speaking at the ceremony, Sabancı University President Prof. Dr. Yusuf Leblebici said, "Sabancı University has been carrying out very important and successful projects on composite materials and additive manufacturing for years. We have been working with TEI for a long time, especially on additive manufacturing, and we have achieved very good results so far. Today, in addition to all these efforts, we are undertaking a project that will open the door to the use of composite materials in the aviation industry. With this agreement, as Sabancı University, we will continue to support TEI's work with our researchers and staff members at our center. We are also proud that we have made Turkey one of the few countries in the world that has a say in this field".