"Sabancı University Center of Excellence in Finance" (CEF) established by Sabancı University with the founding sponsorship of Akbank has continued its seminar series online with InsideChains CEO Cristina Dolan.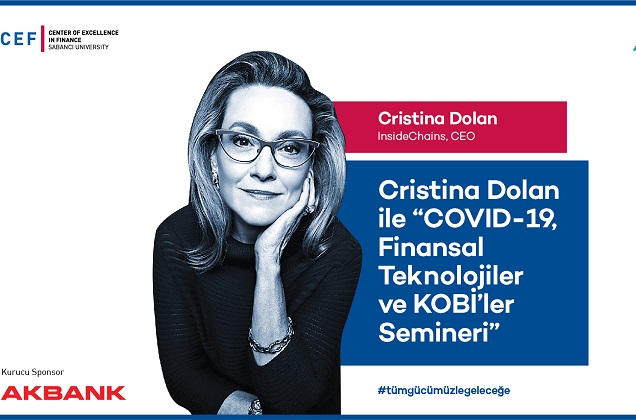 The seminar, entitled "COVID-19, Financial Technologies and SMEs", focused on the short- and long-term impacts of the pandemic, the usage of financial technologies in this period, and the roadmaps SMEs can follow. 
Underscoring the pivotal role SMEs and micro-businesses play in the global economy, Cristina Dolan said: "Although the exact percentages vary from one country to another, SMEs and micro-businesses represent the vast majority of existing enterprises in the world. In addition, these businesses have a significant share in total employment. However, SMEs and micro-businesses lack the financial resources they need for rapid growth. The main reason behind this is the asymmetric information resulting from the fact that these businesses operate in quite different fields and the business models they use are different from those used by large enterprises. More importantly, these businesses need small amounts of capital, which is not fit for service by traditional banks' costly analysis processes. This is where financial technologies come into play, offering opportunities for connectivity, access to data and analyses that help understand the operational risks of SMEs and micro-businesses much more effectively. Extensive use of financial technologies in turbulent times, such as the pandemic we are currently going through, creates new opportunities not only for FinTechs but also for small businesses and consumers in need of finance, as well as the overall economy." 
Cristina Dolan:
Cristina Dolan is CEO of InsideChains, focused on building and growing businesses utilizing data, blockchain, cyber risk quantification, AI, IoT, telematics and serverless cloud architectures for new digitally transformative fintech, insurtech and mobility offerings. iHuddl is a revolutionary FinTech platform she recently cofounded with alumni from BlackRock, that democratizes access to accredited level investment opportunities, by utilizing open banking connectivity. She is a Co-Founder of Additum, an award winning European 'Value Based Healthcare' utilizing reward tokens to improve patient outcomes. iXLedger, was an early blockchain enabled insurance marketplace, which she co-founded, that initially offered blockchain insurance.  In addition to being an MIT Media Lab alumna, engineer and Internet pioneer, she has over two decades of experience building transformational businesses and products form FinTech, InsurTech, Media, Telecom and Healthtech. She was a co-founder of OneMain.com, which grew to be the 10th largest ISP after a successful IPO (Acquired by Earthlink). Formerly, Ms. Dolan held executive roles Disney, Hearst, IBM and Oracle.  She is a member of Forbes Technology Council and the Vice Chair and former Chair of the MIT Enterprise Forum in New York, where she hosted several blockchain and fintech events with industry leaders. The award-winning student competition she founded, Dream it. Code it. Win it., was the subject of her TEDx Talk, Just Solve It. She earned a Master's degree from the MIT Media Lab and holds a Master of Computer Science and Bachelors of Electrical Engineering with concentrations in Computer Science, Data Communications and Business.