Sabancı University Gender and Women's Studies Center of Excellence (SU Gender) will hold Dicle Koğacıoğlu Article Awards Conference, which will be organized for the 12th time this year to the memory of Dicle Koğacıoğlu, a sociologist, from 13.00 to 17.00 on Saturday, December 25. The conference will be online.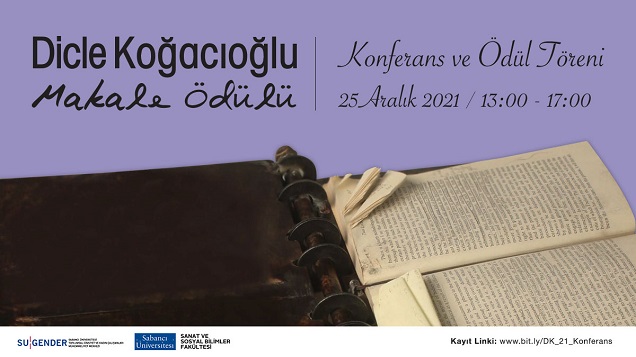 The conference is organized to support gender-focused research and encourage young researchers. Applicants to the article awards will present their studies and the 2021 award winners will be announced during the award ceremony at the end of the conference.
Please click to register for the conference, which will be held on Zoom.  
Date: Saturday, December 25, 2021
Time: 13.00 – 17.00
Registration link: www.bit.ly/DK_21_Konferans
Dicle Koğacıoğlu Article Awards Conference and Award Ceremony Program

13.00-14.15 OPENING TALKS
14.15-14.30 BREAK
14.30-15.30 PANEL I
Facilitator: Biray Anıl Birer
Dilan Alataş, "Autism Mothers: Care Labor and Critical Imagination of Parenting"
Şehide Zehra Keleş Yüksel, "Hosting the Public: Home Visits for Social Study Purposes and Public Imaginations of Housewives"

15.30 - 15.45 BREAK

15.45-16.45 PANEL II

Facilitator: Şeyma Gümüş
Gözde Cöbek, "When Harry meets Sally (on an online application): Heterosexual Online Flirting World in Turkey"
Göksu Köktürk, "A Look through Women Consumers on the Relation of Femvertising with Gender Equality in the Context of Post Feminism and Meta Feminism"

16.45-17.00 AWARD CEREMONY