In its online seminar series initiated during the pandemic, Sabancı University Center of Excellence in Finance (CEF), founded under the sponsorhip of Akbank, hosted Dr. Jillian Grennan, a prominent scholar in the field of finance, from Duke University.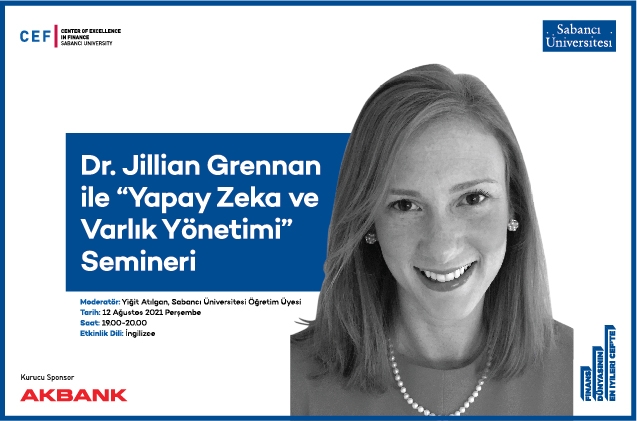 During the seminar entitled "Artificial Intelligence and Asset Management" held on Thursday, August 12, 2021, Dr. Grennan shared her assessments:
"Artificial intelligence is a powerful form of automation that improves prediction and programs machines to act more like humans. As robots or new software have replaced jobs requiring low- or medium-level skills, artificial intelligence is expected to play a role in labor markets, particularly high-skill jobs. A study that we carried out with a focus on this expectation as far as financial analysts are concerned indicates that analysts who manage portfolios that are more vulnerable to impacts of artificial intelligence are guided to rather soft skills and some of them even quit their jobs. Most of the analysts who quit are those with a strong power of prediction and they go to non-research jobs. Although the fact that analysts' focus has shifted to soft skills helped improve financial forecasts, the average salaries of analysts tend to decrease since the impact of artificial intelligence results in devaluation of analysts' outputs."
Jillian Grennan is an Assistant Professor of Finance at Duke University's Fuqua School of Business. In the current academic year, she acts as a visiting professor at University of California Berkeley Law Faculty and Haas School of Business. Dr. Grennan's academic interests span finance, law, and innovation. Her research focuses on intangible value creation and emphasizes the role informal and formal governance systems have in its creation.  She offers novel computational techniques for quantifying the value of corporate culture and sustainability objectives.
You can watch the seminar with Jillian Grennan, moderated by Yiğit Atılgan, faculty member at Sabancı University from the link below.