Sabancı University Istanbul International Center for Energy and Climate (IICEC) is organizing a conference entitled "Electric Vehicles Outlook - Global & Turkey".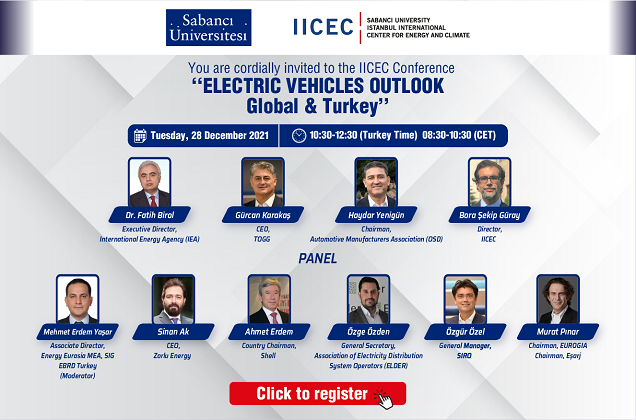 Dr. Fatih Birol, Executive Director of the International Energy Agency (IEA) will deliver the opening speech of the conference, which will start at 10:30 on Tuesday, December 28. Guest speakers of the conference are Gürcan Karakaş, CEO of TOGG, and Haydar Yenigün, Chairman of the Automotive Manufacturers Association (OSD). In the conference, Bora Şekip Güray, Director of IICEC, will make the launch presentation of the IICEC "Turkey Electric Vehicles Outlook 2021" report.
The conference will be followed by a distinguished panel. Moderated by Mehmet Erdem Yaşar, Associate Director, Energy Eurasia MEA, SIG of EBRD Turkey, the panel will host Sinan Ak, CEO of Zorlu Enerji, Ahmet Erdem, Country Chairman of Shell Turkey, Özge Özden, General Secretary, Association of Electricity Distribution System Operators (ELDER), Özgür Özel, General Manager of SIRO, and Murat Pınar, Chairman of EUROGIA and of Eşarj, as speakers.
Due to the pandemic conditions, only the speakers and the panelists will onstage attend the conference physically, and the conference will be broadcast live between 10:30 and 12:30.
To watch the live broadcast, please click to register.