Sabancı University Gender and Women's Studies Center of Excellence (SU Gender) held a panel on Saturday, February 20, 2021 to discuss the relation between the pandemic and gender with representatives of NGOs in different fields.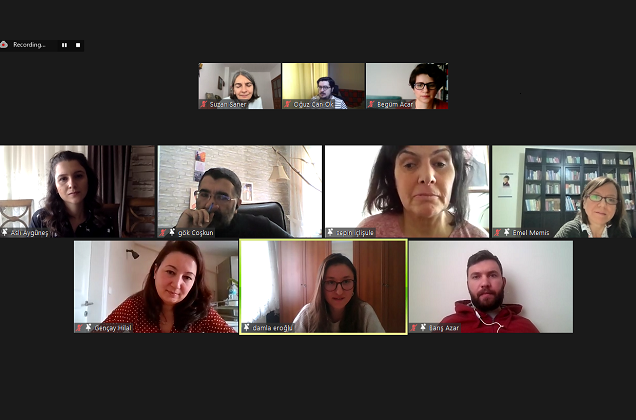 Hülya Adak, Director of SU Gender, delivered an opening speech at the panel entitled "Talking about Gender on the First Anniversary of the COVID-19 Pandemic". During her speech, Adak explained the purpose of issuing the recently published report on "Monitoring Gender Studies during the Covid-19 Pandemic", and emphasized that gender-based violence and inequalities grew during the pandemic.
Among the panel participants, SU Gender Asistants Aslı Aygüneş and Oğuz Can Ok talked about their work during the preparation of the Monitoring Report, and stated that the panel was organized to evaluate details of the research included in the report with relevant stakeholders.
Among other speakers of the panel were Coşkun Gök and Şule Sepin from the Turkish Federation of the Blind, Damla Eroğlu ve Hilal Gençay from the Women for Women's Human Rights – New Ways Association, Emel Memiş from the Feminist Researchers Studying Women's Labor/KEFA and Gender Equality Monitoring Association/CEİD, Rojda Zaman from the KAMER Foundation, Suzan Saner from the Women's Commission in Istanbul Chamber of Doctors and Women and Psychiatry Working Unit of the Psychiatric Association of Turkey, Barış Azar from the LGBTI+ Association, Yıldız Tar from the KAOS-GL Association, and Zelal Yalçın, Social Policies Coordinator of Social Services Department of Istanbul Metropolitan Municipality. Speakers evaluated the relation between the pandemic and gender, and topics such as violence against women, disability, access to healthcare and education, discrimination against LGBTI+ individuals, women's labor and employment from different perspectives. They also mentioned their reporting and advocacy efforts during the pandemic, and shared their suggestions as to what they expected NGOs to do going forward.