Sabancı University Center of Excellence in Finance (CEF), of which Akbank is the founding sponsor, will present a certificate program on Fundamentals Of Capital Budgeting  and Fundamentals of Finance in April 2021.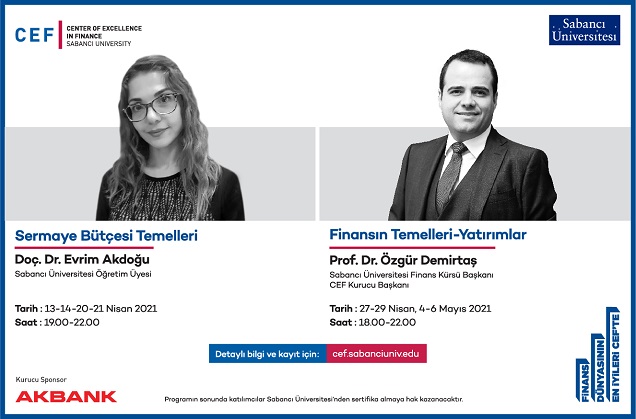 This 4-day education will be an intense introduction to capital budgeting and more importantly discounted cash flow valuation of corporate investments.
In the first part there will be an introduction to simple heuristics for choosing between available projects. In the second part, the focus will be on the topic of risk and return and how these two concepts are related to each other. 
The training will be instructed by Evrim Akdoğu, Faculty Member of Sabancı Business School, Sabancı University, via Zoom between April 13-21.
Fundamentals of Finance / Investments Online Training by Özgür Demirtaş
As part of the CEF Certificate Programs, Özgür Demirtaş, Chairperson of Finance at Sabancı University, will give lectures on Fundamentals of Finance / Investments between 27-29 April and 4-6 May. This 4-day education will be an intense introduction to Fundamentals of Finance with an Investments flavor.
First day will start with time value of money. Using present and future value operators and the power of compounding will be instructed. Then, we will dive into annuity and perpetuity type cash flow streams. Second day will start with equity valuation. During the third day of the certificate program, students will be introduced to modern portfolio theory. Participants will learn to allocate capital between risk-free and risky assets. Final day of the certificate program will introduce participants to derivative securities. Stock options will be emphasized and call and put options will be covered.

After these four days, participants will have a strong foundation of finance with a flavor of Investments. They will be ready to take advanced classes such as Risk Management, Investments and Asset Pricing.