Organized by Sabancı University Nanotechnology Research and Application Center (SUNUM), the Nano Open Webinars continue with a webinar entitled "Energy and Energy Efficiency: From Science to Applications" that will be delivered by Pınar Mengüç, Director of the Özyeğin University Center for Energy, at 11:00 on Wednesday, March 8, 2023.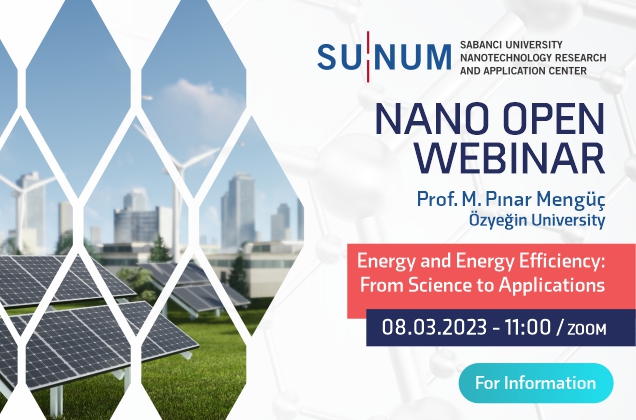 Today, while energy efficiency is gaining importance, it can be seen that clean energy also comes to the fore. Prof. Pınar Mengüç will scientifically discuss new-generation technologies in energy transformation, renewable energy, and sustainability in energy.
To register for the Nano Open Webinar that will take place on March 8, 2023 at 11:00 am on Zoom: http://otolab.sabanciuniv.edu/SUNUMActivityRegistrationForm
About Prof. M. Pınar Mengüç
Professor M. Pinar Mengüç received his BS and MS from ODTU/METU in Ankara, Turkey, and his PhD from Purdue University, USA in 1985, all in Mechanical Engineering. The same year he joined the University of Kentucky (UK), and promoted to the ranks of associate and full professor in 1988 and 1993, respectively. He was a visiting professor at Università degli Studi di Napoli Federico II, Italy during 199, at Harvard University, Cambridge, Massachusetts, during 1998-99 academic year, and at University of California, Los Angeles in 2022. He was awarded an Honorary Professorship at ESPOL, in Ecuador in 2006. At the end of 2008, he was promoted to Engineering Alumni Association Chair Professor at the University of Kentucky, which he held until 2021. He has six patents and has two patent applications. He is a co-author of more than 160 articles published in SCI journals, has co-authored more than 220 conference papers and six books. He has worked with more than 65 MS, PhD and Post-Doc researchers, and had more than 130 invited/keynote lectures delivered. He joined Özyeğin University, Istanbul in 2009 as the founding Head of Mechanical Engineering. The same year, he established the Centre for Energy, Environment and Economy (CEEE/EÇEM), which he is still directing.  His research areas include radiative transfer, nano-scale transport phenomena, applied optics and sustainable energy applications. He is an elected member of Science Academy of Turkey, a fellow of both ASME (American Society of Mechanical Engineering) and ICHMT (International Center for Heat and Mass Transfer), and a Senior Member of OSA (Optical Society of America). He is in the executive committees of several NGO, including ICHMT and Science Academy.
He is one of the Editors-in-Chief Journal of Quantitative Spectroscopy and Radiative Transfer (JQSRT) by Elsevier. Mengüç is the recipient of several recognitions, including the 2018 ASME Heat Transfer Memorial Award and the 2020 Purdue Outstanding Mechanical Engineering Award, for his lifetime achievements. The CEEE team, which he is leading, has received the 2019 First Place Award on 'Efficiency' from the Turkish Ministry of Industry and Technology and the 2020 First Place Award on 'Energy Efficiency' from the Turkish Ministry of Energy and Natural Resources and Istanbul Chamber of Trade on a Sustainable Energy project they completed.