The Sabancı University Professional Graduate Programs 2021 Commencement and 2020 Alumni Gathering will be held on Saturday, November 20, 2021.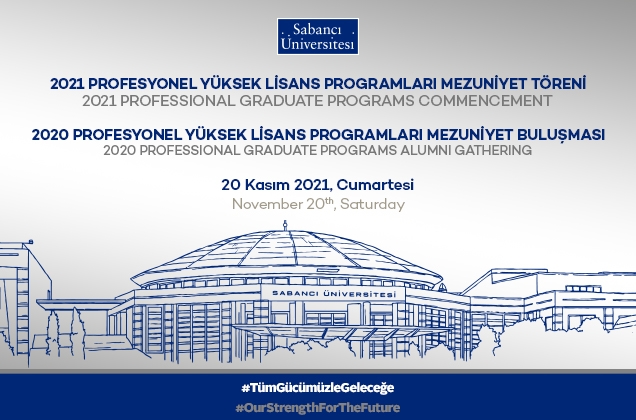 Sabancı University will conduct its Professional Graduate Programs 2021 Graduation Ceremony and 2020 Alumni Gathering at Tuzla Campus on November 20, 2021. Professional Graduate Programs include Information Technology, Energy Technology and Management, Cyber Security, Data Analytics, Masters in Finance, MBA, Professional MBA, and Executive MBA programs.
The Commencement Ceremony and Alumni Gathering will be broadcast live on Sabancı University YouTube channel.
Date Saturday, November 20, 2021
Commencement Ceremony Time 15.30 – 19.45
Alumni Gathering 11.00 – 14.30
2021 Commencement Program
15.30 – 16.00 Registration and distribution of caps and gowns (Sports Hall)

16.00 – 17.00 Cocktail (Sports Hall)

17.00 – 17.30 Gathering for commencement and queuing for academic procession (Sabancı Performing Arts Center)

17.30 – 17.45 Taking of seats according to the plan (Sabancı Performing Arts Center)

17.45 – 19.30 Commencement (Sabancı Performing Arts Center)

19.30 – 19.45 Return of caps and gowns (Sabancı Performing Arts Center)
2020 Alumni Gathering Program
11.00 – 11.30 Registration and Distribution of Caps and Gowns (Sports Hall)

11.30 – 12.30 Cocktail (Sports Hall)

12.30 – 13.00 Gathering and Queuing for Academic Procession (Sabancı Performing Arts Center)

13.00 – 13.15 Taking of Seats According to the Plan (Sabancı Performing Arts Center)

13.15 – 14.15 Alumni Gathering (Sabancı Performing Arts Center)

14.15 – 14.30 Return of Caps and Gowns (Sabancı Performing Arts Center)