Sabancı University Gender and Women's Studies Center of Excellence (SU Gender) with the support of the Sabancı Foundation awarded teachers and teacher candidates in the field of gender equality.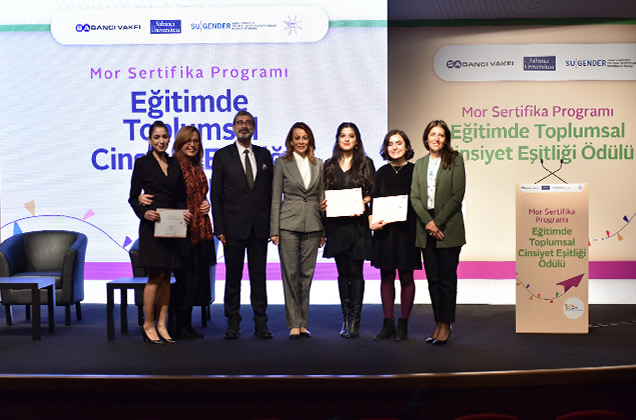 Organized for the first time this year, and a first of its kind in the field, the Purple Certificate Program Gender Equality in Education Awards' İpek Gürkaynak Creative Pedagogy Award was granted to Selin Sengir, a school counselor from Kayseri, who participated in the 2015 Purple Certificate Program; the Gender Equality Award was granted to Büşra Bayram from Isparta, a teacher of philosophy, who completed the  Purple Certificate Program in 2020, and the Egalitarian Practices Award was granted to Zeynep Alay from Istanbul, a teacher of Turkish, who participated in the 2016 Purple Certificate Program. In addition, Dilan Özdemir, a primary school teacher of mathematics, and Fadimana Küçük and İlke Özipek, both teacher candidates, became the recipients of the Purple Seeds Award.
THE PURPLE CERTIFICATE PROGRAM TRAINED 4800 TEACHERS AND TEACHER CANDIDATES
Established in 2007 by Sabancı University faculty members as part of the United Nations Joint Program, and supported by the Sabancı Foundation from its inception, the Purple Certificate Program has provided training to teachers about gender, inclusion, diversity and intersectionality in teaching environments and curriculum for the past 14 years. In addition to teacher training, the Purple Folder teams aim to add a gender equality perspective to education with innovative classroom material and awareness-raising efforts. The project is one of the oldest programs of Sabancı University Gender and Women's Studies Center of Excellence.
Within the framework of the project, 4800 teachers and teacher candidates have been trained so far. 440 teachers have received the Purple Certificate upon successful completion of their training. Considering the number of students that teachers with the Purple Certificate reach throughout their professional lives, the program will have reached nearly 10 million students who interact with teachers who have received training. In addition, 100 NGO representatives from 25 cities have been reached through various programs involving training for NGOs.
"WE REPRESENT TURKEY IN EUROPE WITH OUR GENDER EQUALITY PROGRAM"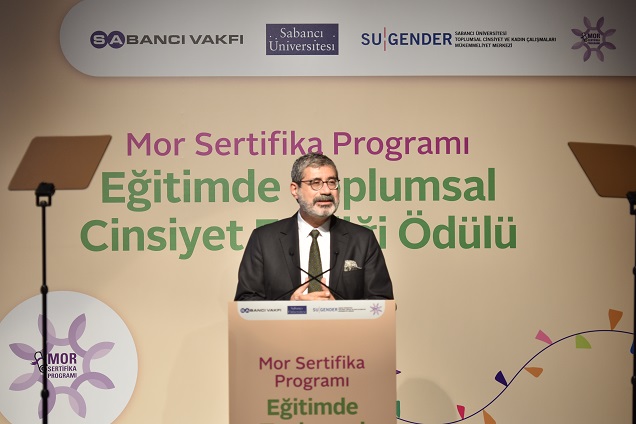 Delivering a speech at the award ceremony, Prof. Dr. Yusuf Leblebici, President of Sabancı University, stated the following: "Gender is among the top priority subjects for us as Sabancı University. With both our Sabancı University Gender and Women's Studies Center of Excellence (SU Gender) and our Corporate Governance Forum, we work to ensure that all the necessary educational support is provided so that women can be empowered in social life. We do not confine ourselves to this, we also contribute to special international projects in this field. One of the best examples of this is our Gender Equality Plan, which we implemented this year".   
Pointing out that Sabancı University was among the first universities in Turkey to implement the "Gender Equality Action Plan", Prof. Dr. Yusuf Leblebici said that the plan was an important component of the GEARING-Roles project implemented under the EU Horizon 2020 Research and Innovation Program. He continued: "As one of the 6 international institutions implementing the gender equality action plan, we represent Turkey in the project. Being one of the 10 international institutions implementing the GEARING-Roles project, SU Gender is one of the most important supporters for the creation of the gender equality action plan."
TEACHERS WITH  PURPLE CERTIFICATES WILL OVERCOME ALL OBSTACLES ON THE PATH TO GENDER EQUALITY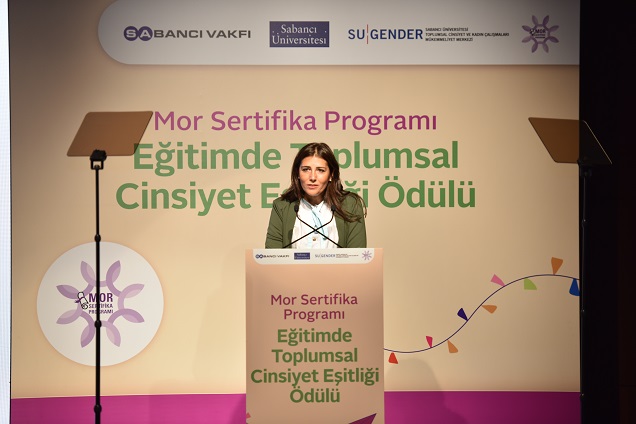 During her speech at the ceremony, Nevgül Bilsel Safkan, General Manager of the Sabancı Foundation exclaimed: "As the Sabancı Foundation, we have been working for 47 years with our dream of a society in which all individuals enjoy rights equally. We believe that ensuring gender equality is one of the most important milestones on this road. The Purple Certificate Program is very valuable for us since it is one of the most comprehensive and the longest-running programs that we support in this field. What makes the Purple Certificate Program so special is that there is no comparable program that aims to raise awareness about gender equality through teachers".
Stating that she was both embarrassed and extremely honored by the fact that a Creative Pedagogy Award was endowed in her name in the Purple Certificate Program Gender Equality in Education Awards, social psychologist Prof. Dr. İpek Gürkaynak said the following: "We live in a society where we can see all kinds of discrimination, including gender discrimination. We can notice these only if we are careful and aware. Teachers with the Purple Certificate have the skills to notice and disseminate what they notice. By doing this, they remove the obstacles on the road to gender equality not one by one, but five by five, ten by ten".
NOMINATED FOR THE UNESCO PRIZE FOR GIRLS' AND WOMEN'S EDUCATION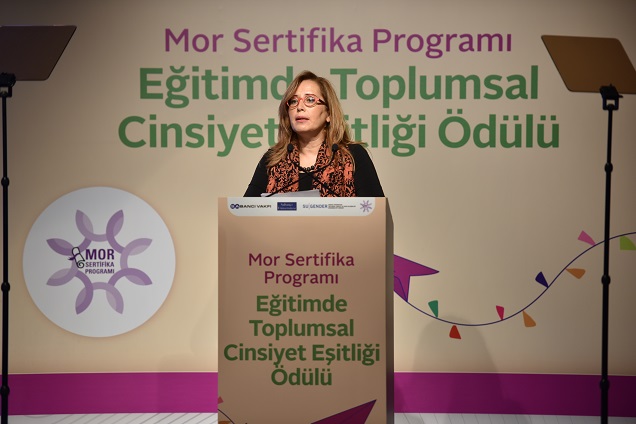 Prof. Dr. Hülya Adak, Director of SU Gender, stated that with the Gender Equality in Education Awards, they aimed to enable communication with alumni of the Purple Certificate Program, to follow pedagogical good practices of all teachers and teacher candidates from the Purple Certificate Network when they went back to their schools, to enhance solidarity and to make creativity more visible. She continued as follows: "The Purple Certificate Program was organized initially for teachers, and then the scope was broadened to include teacher candidates. The process later encompassed designing material to be used in the classroom. In this context, educational materials were produced in many fields including literature, physical education, mathematics, and history, among others. These Purple Folders were prepared based on our joint work with teachers. In addition, we organized staged readings of plays, movie screenings, panels and discussions to develop empathy, to strengthen our struggles against discrimination and to promote an inclusive school culture. Over the years, the Purple Certificate Program became the leading program on gender equality in education in Turkey. The Purple Certificate Program was nominated for the UNESCO Prize for Girls' and Women's Education by the Sabancı Foundation in 2020, and by the Turkish National Commission for UNESCO in 2021. This is an international prize delivered by UNESCO in Paris. It Is a great honor for me to share this outstanding achievement with you and we are proud that the Purple Certificate Program is now a well-renown, prestigious program nationwide, and a nominee of UNESCO Turkey."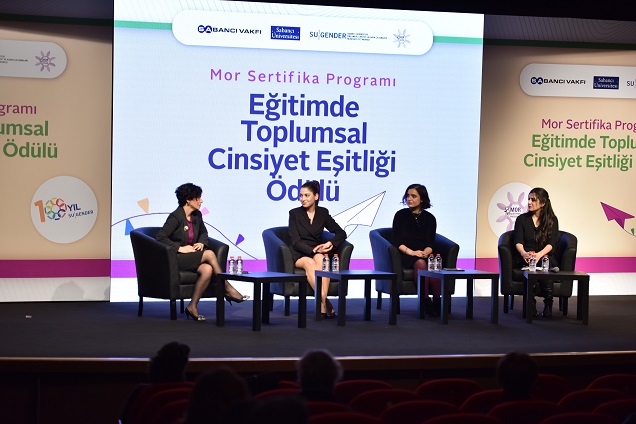 With the participation of the award-winning teachers, the Gender Equality Awards ceremony continued with a panel moderated by Ayşe Alan.