Organized by Sabancı University Nanotechnology Research and Application Center (SUNUM), the Nano Open Webinars continue with a webinar entitled "The effect of the Covid 19 crisis in health technologies and technological developments" that will be delivered by Ramazan Işık,Technology and Production Assistant General Manager at Koç Yaşa, at 11:00 on Wednesday, March 1, 2023.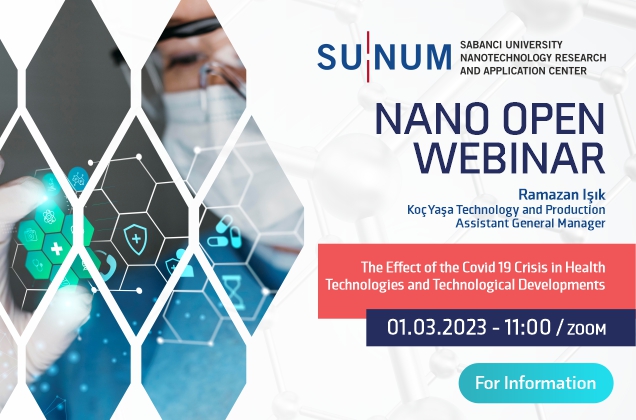 To register for the Nano Open Webinar, which will take place on March 1, 2023 at 11:00 am on Zoom, please visit http://otolab.sabanciuniv.edu/SUNUMActivityRegistrationForm 
About Ramazan Işık
He completed the undergraduate program of Electronics and Communication Engineering at Yıldız Technical University. He gained 20 years of his total of 25 years of experience in research and development at Arçelik, a subsidiary of Koç Holding. In addition to customer electronics, he built and managed successful projects that touched many lives in the fields of health and education. He is also among the leaders of ventilator respiratory project, which was actualized during the intense period of the Covid 19 pandemic. Then he transferred to the CTO position of Koç Yaşa at the beginning of 2022.