Sabancı University awarded its first Honorary Doctorate to Sabancı University Board of Trustees Member and Chair of the Board of Directors of Hexagon Consulting, Jan Nahum. After the ceremony, a panel entitled "Sabancı University: Yesterday, Today, Tomorrow" took place with the participation of Sabancı University Founding Board of Trustees Chair Güler Sabancı and Sabancı University President Yusuf Leblebici.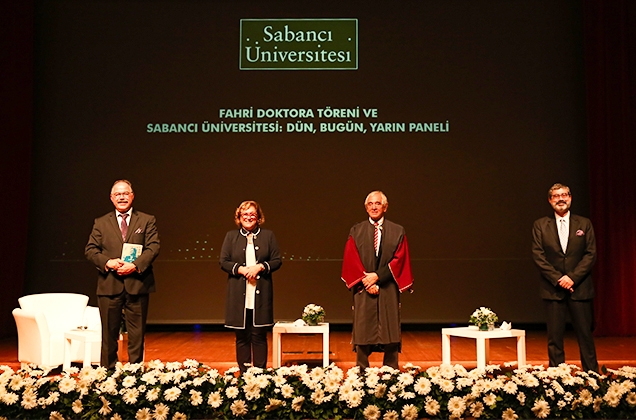 Sabancı University's first Honorary Doctorate was presented to the Member of the Board of Trustees of Sabancı University and Chair of the Board of Directors of Hexagon Consulting, Jan Nahum for special contributions to the education community, to the world of industry and to the collaboration between academia and industry. Güler Sabancı presented the Honorary Doctorate diploma to Nahum at the ceremony held on Monday, October 26th, 2020.
In her speech, Güler Sabancı said, "As Sabancı University, in the past 20 years we have introduced many firsts and we have always acted very meticulously with regards to these firsts. I would like to thank our Academic Board for showing the same meticulousness with regards to our first Honorary Doctorate and for approaching our Board of Trustees with the recommendation of Jan Nahum. Jan Nahum, with his extraordinary energy, has wholeheartedly participated in the processes at our university, and has made a great contribution to the entire Sabancı University family with his on point analyses of both the business and academic worlds. It is not easy to ask the right questions. Jan Nahum has always asked the right questions and guided our university in a constructive way. He always shares what he knows with those around him; he is a faculty member through the nature of his contributory personality. We are delighted to present the first honorary doctorate of our university to him."
Noting that Jan Nahum has made a great contribution especially in the area of industry-university cooperation, Güler Sabancı continued with these words, "Although we, as a university attach great importance to university-industry cooperation, unfortunately, our country is tarrying in relation to this issue. Sabanci University is a model in this area in Turkey. While establishing our Composite Technologies Center of Excellence with the support of Jan Nahum, we took great care to set a good example. One of Jan Nahum's most important characteristics is that he can foster cooperation. As a university we have always created and developed this together. On behalf of the Sabancı Group and Sabancı University I extend our thanks to him. With Jan Nahum now as a representative of both the business world and the academy we will continue to develop our work further."
Now our Target is to Be One of the Best Universities in the World
Sabancı University President Yusuf Leblebici, in his speech at the honorary doctorate ceremony said, "We have celebrated our 20th anniversary as Sabancı University. In 20 years, our university has indeed fulfilled the ambitious goals set initially and has exceeded them. We see that our university is continuing its progress with the same acceleration and excitement. One of the initial founding goals of our university was to become one of Turkey's leading universities, attracting the best students of Turkey. Today we have achieved this goal. In all of the areas which we focus on we have attracted the best students in ​​Turkey.
Yusuf Leblebici stated that Sabancı University has started to gain a befitting reputation worldwide as a research institution and he continued, saying "We are no longer satisfied with being one of the best universities in Turkey but also aim to become one of the best universities in the world. In doing so, our research identity will play an enabling role. We want to attain prominence with our identity as a scientific research institution, which is the foundation for providing the best and highest quality education, not only in Turkey but in the world. It is not possible for us to do this alone. Especially, if we want to progress as a research university, we have to work closely with industry. We have set out a strategic plan for this and adopted it as our road map from now onwards. Jan Nahum continues to contribute to the roadmap we have developed for the next 20 years."
One Must not Be Afraid of Failure While on the Path to Success
Jan Nahum expressed his feelings of honor at being awarded Sabancı University's first Honorary Doctorate. He said, "Sabancı University has put its signature under many firsts. It is one of the most successful universities in Turkey. It is a great honour that such a university should give me the title of first honorary doctor. I would like to thank everyone who has deemed me worthy of this."
Jan Nahum, drawing attention to the fact that humanity has been going through a difficult period, and that the education system in Turkey was also experiencing difficulties, said: "Humanity has passed through great tribulations/hardships, such as the great immigration that emerged with the melting of glaciers, the great carnage caused by the Plague in the Middle Ages and the First and Second World Wars. Each time civilization progressed much faster and took great leaps forward. This is how we should evaluate this period we are going through. When there are obstacles to overcome, human history has always recorded greater progress.
I fought hard to make the Turkish automotive industry competitive with the world. Not renouncing my dreams, I worked hard for them, even ready to resign if necessary to realise them. I, too, have experienced failures, as well as success. If you want to avoid failure while on the road to success, inevitably you distance yourself from success. It is important not be afraid of failure and to learn from failure. It is necessary to make strong connections between the new and the old and the inexperienced and the experienced. Sabancı University, as it has done in the past, is one of the change agents that will shape the future. Thank you for deeming me worthy of this award."
After the ceremony, in the panel entitled "Sabancı University: Yesterday, Today, Tomorrow", the foundation of the university, its development up until today and the vision for its future was discussed with the participation of Sabancı University Founding Board of Trustees Chair Güler Sabancı and Sabancı University President Yusuf Leblebici. The moderator of the panel was Sabancı University Vice President Fuat Keyman.
About JAN NAHUM
Born in Ankara in 1950, Jan Nahum completed his high school education at Istanbul Robert College. He completed his university education at the Royal College of Art (RCA) in London in automotive design, a department which only accepts four students each year. Nahum received the "Penguin Design Award" for research he engaged in on "Economic Vehicles". He started working in 1973, in Otosan as a Project engineer. In the nine years following 1975, he served as department design head and coordinator respectively at the R&D Center of Koç Holding. Nahum, transferring to Otokar in 1984, was the general manager of the company for ten years and during this period, he was the driving force behind Otokar's Land Rover and armored vehicle production which led to its activity in the defense industry. In the three years following, he was the general manager of Tofaş, a partner of Koc Holding Fiat, and during this period, he pioneered the Doblo project which led to Tofaş's transition to serious R&D activities and its transformation to a production base for Fiat. Nahum was the executive director of the company between 1998 and 2002 and was later the deputy chairman of Tofaş and FIAT S.P.A. until 2004, at the same time continuing his duties as head of the international business development department. Nahum, who, in 2004, became a member of the board of directors of Karsan Otomotiv, operating under the Kıraça Holding, served as the general manager of Petrol Ofisi between 2005 and 2007. Nahum played a leading role in the establishment of the family firm, Hexagon Danışmanlık ve Ticaret A.Ş. in 2005. He identified the firm's sectors of focus as ones that are closely concerned with Turkey's future: the automotive, renewable energy, environment and emerging technologies sectors. Besides the chairmanship of Hexagon Consulting and Trade Inc., Nahum has also been the executive director of Karsan since 2008. Nahum, who is married with three children, specializes in automotive design, industrial engineering and energy.