The Purple Certificate Program, run by Sabancı University Gender and Women's Research Center of Excellence (SU Gender) with the support of the Sabancı Foundation, continues its efforts in the field of gender equality in education. The program strives to eliminate gender-based discrimination by raising awareness on gender equality among high school teachers.The Purple Certificate Team introduced their work to the stakeholders and educational institutions on June 14.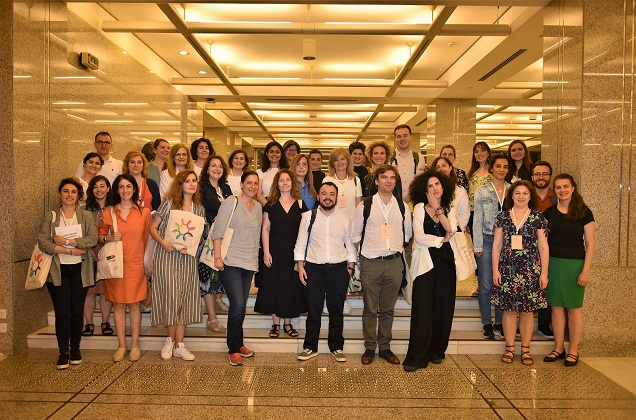 The Purple Certificate Program Launch for bilingual schools in Istanbul was held at Sabancı Center on June 14. Information about the Purple Certificate and SU Gender studies was shared with the participation of many bilingual education institutions in Istanbul. Ayşe Gül Altınay and Hülya Adak, co-founders of the Purple Certificate Program, as well as many speakers, introduced the Purple Certificate Program in English and Turkish with their presentations. The participants plan to establish a network to exchange ideas and carry out joint studies in this field. The Purple Certificate team will complete the preparations for concrete steps to be taken on future collaborations during the summer months.
TURKEY WAS RANKED 133RD IN THE GLOBAL GENDER GAP REPORT
In her speech at the program's opening, SU Gender Director Hülya Adak shared up-to-date information about the Purple Certificate Program and Sabancı University's Gender and Women's Studies Center of Excellence (SU Gender) and made various observations on the anti-gender movements in Turkey and around the world. In her speech, Adak stated that the
UN Conference on Population and Development (1994) and The World Conference on Women in Beijing (1995) were seminal in the use of the term "gender" (in lieu of "sex") to underline cultural differences. These two conferences were also pivotal in the development of gender studies as a field of research and activism. Concomitantly, the 1990s witnessed antigender movements which centered their theses on the protection of the "innocent child" allegedly contaminated by gender studies in education.
In order to empower K12 schools and gender and women's studies departments and centers in higher education, Adak suggested a roadmap which included collaboration between high schools and universities in curriculum development and institutional transformation. Adak also underscored that in 2021, according to the World Economic Forum's Global Gender Gap Report, Turkey was ranked 133rd out of a total of 156 countries in the fields of education, politics, economics and health. Discussing a few of the salient reasons behind the challenges in education, Adak also provided analyses of exemplary institutions, besides Sabancı University, that strove to mainstream gender in education.
PURPLE CERTIFICATE PROGRAM REACHED OUT TO MORE THAN 4000 TEACHERS AND TEACHER CANDIDATES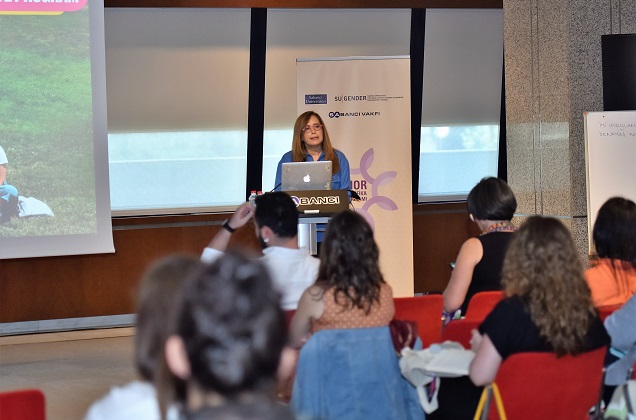 The Purple Certificate Program, which was first implemented by Sabancı University faculty members in 2007 as a part of the United Nations Joint Program and supported by the Sabancı Foundation since its establishment, has been training teachers on gender, inclusion, diversity and intersectionality in educational environments and curricula for 15 years.
More than 4000 teachers have been trained through our dissemination efforts in the project so far, and 440 teachers have been awarded the Purple Certificate. In addition, the project reached out to more than 100 NGO representatives from 25 cities with NGO trainings. Organized for the first time this year, and a first of its kind in the field, the Purple Certificate Program Gender Equality in Education Awards' İpek Gürkaynak Creative Pedagogy Award was granted to Selin Sengir, a school counselor from Kayseri, who participated in the 2015 Purple Certificate Program; the Gender Equality Award was granted to Büşra Bayram from Isparta, a teacher of philosophy, who completed the Purple Certificate Program in 2020, and the Egalitarian Practices Award was granted to Zeynep Alay from Istanbul, a teacher of Turkish, who participated in the 2016 Purple Certificate Program. In addition, Dilan Özdemir, a primary school teacher of mathematics, and Fadimana Küçük and İlke Özipek, both teacher candidates, became the recipients of the Purple Seeds Award.
The project, one of the oldest programs of Sabancı University Gender and Women's Studies Center of Excellence, aims to bring a gender equality perspective to education with teacher trainings, innovative classroom materials, and Gender Equality in Education Awards.