During her opening address, Meltem Müftüler-Baç, Deanof the Faculty of Arts and Social Sciences of Sabancı University, stated that inequalities had grown bigger and more complicated during the pandemic and continued, "Particularly those women giving primary care faced great difficulties in labor force participation during the pandemic. Structural injustice and inequalities have become deeper in the recent months."
Hülya Adak, Director of SU Gender, said, "The pandemic made many problems and inequalities manifest. To SU Gender, the pandemic showed that feminist solidarity can be expanded and deepened through digital platforms and networks. Our training programs grew and became more widespread without any space limits or health-related concerns." Citing Columbia University Women and Gender in Global Affairs (WGGA) and Berlin Free University's Margherita von Brentano Zentrum among the feminist networks that SU Gender joined during the pandemic, Adak added they organized joint conferences, invited speakers, exchanged library data and sources, and advised graduate students in different countries thanks to such solidarity. She pointed out that they held webinars on sexual harassment and gender-based violence jointly with universities in Turkey and abroad, and thus became a leading center and platform for academic and activists' work in new fields such as digital violence. She stated that such webinars and joint action plans were very important to facilitate new modes of fight against violence during the pandemic. She highlighted that, in the summer of 2020 when the Istanbul Convention was questioned, SU Gender's social media work underlined the importance of this convention and the women's, LGBTQI+ and minority rights it protected in international and national platforms. Saying that they were involved in 5 EU Horizon 2020 projects during the pandemic, Adak added that their thematic focuses were inequalities during the pandemic, immigration, gender, and climate, and that the Marie Curie post-doctoral scholarships awarded to them made it possible for the Center to grow and upgrade its capacity. Adak said that the Sabancı University Gender Equality Action plan for the COVID 19 period had been published, and that they guided activists, high school teachers, and the world of business through their brand-new programs. She pointed out that the pandemic enabled them not just to survive but to open up to new horizons and grow.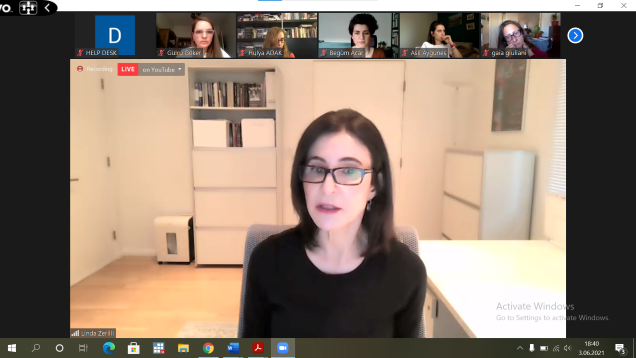 Linda Zerilli, a Charles E. Merriam Distinguished Service Professor of Political Science at the University of Chicago delivered a speech as guest speaker at the conference. She had a critical approach to the waves metaphor, which is used to refer to the history of the feminist movement in the USA. She touched upon the political history of Western feminism and how this history could be considered in alternative ways with a radical democracy perspective. Saying that the waves metaphor enabled feminists to move on referring to their predecessors, Zerilli pointed out that this feeling of the past actually constituted a source for today's actions. She emphasized that it was necessary to remember there was no evolutionary line between the past, the present and the future, and pointed to feminist memory works that focus on fragmented narrative. Zerilli said, "according to Hannah Arendt, feminist history is very important, but for our action, today must be important and contribute to the incomplete project of freedom." Zerilli underlined that women were not involved in the writing of national histories.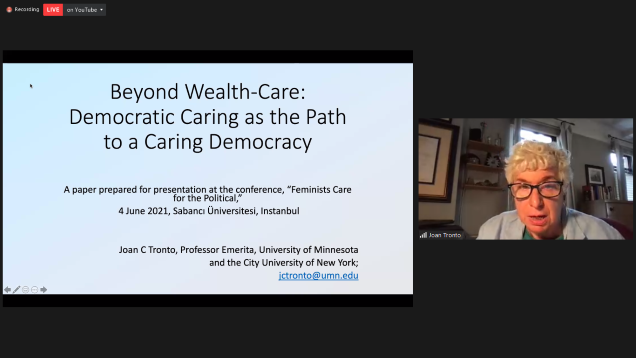 On the second day of the conference, Joan Tronto, Professor of Political Science at the University of Minnesota, also one of the leaders of a feminist ethics of care, delivered her keynote speech entitled "Beyond Wealth-Care: Democratic Caring as the Path to a Caring Democracy", during which she mentioned the importance of care-centered economic perspectives and democratic institutions. She highlighted that the world was going through not only a climate crisis but also a demographic crisis, and that there were inequalities between poor and rich countries. She continued,"It is possible to cope with the crises we face; the cure lies with global democratic actions. However, many people stand away from political life. Everywhere in the world, people are less committed to a democratic life, because being a citizen of a democratic country involves making serious, well-informed choices. At this point, it is important to talk about wealth-care, which currently shapes economic policies, and lies at the center of everything that is being done. Due to imbalances, material inequalities start to look natural and become accepted by everyone, and the public just support this. Wealth-care became deeper with the pandemic. In the last one and a half years, some people have gained huge wealth. In various parts of the world, including a rich country like the US, people failed to provide PPE to their healthcare staff, medical staff members losing their lives were put into plastic bags. Yes, there is wealth out there but no funds were available to medical staff for PPE. Of course, wealth is not a bad thing, but when it belongs to only one individual, knows no limits, or no restrictions on exploiting the environment, then it becomes a problem. During our lives, we are both caretakers and caregivers. We should see that there are limits to these, and this is called the ethics of responsibility." 
Pointing out that the economics of care is accompanied by the politics of care, Joan Tronto said, "Care should be at the center and we should organize the economy around it. This revolution has not been made yet for home workers who have not secured fully democratic participation yet. First, when we say democratic care, how responsibilities are fairly distributed in the society matters a lot. Second, we should re-organize and re-arrange our care responsibilities. Third, we should always reach care solutions through democratic methods. There may be inequalities in any kind of personal care, but equal opportunities and care conditions should be established and provided for both caretakers and caregivers."
THE CONFERENCE CONTINUED WITH PANELS
On the second day of the conference, the panel entitled "Feminist Action an Resistance", moderated by Fatmagül Berktay from Istanbu University, hosted Fulden İbrahimhakkıoğlu (Middle East Technical University), Mona Lilja (University of Gothenburg) and Neha Kagal (ActionAid UK) as speakers. 
The panel entitled "Power, Policy and Advocacy", moderated by Serpil Sancar, was attended by Simten Coşar (University of Pittsburgh), Berfu Şeker (New Solutions Society) and İlknur Üstün (Women's Coalition). 
The panel entitled "Feminist Care Ethics, Practices and the Politics of Care" was moderated by Yeşim Arat from Boğaziçi University. The panelists were Özge İzdeş (İstanbul University-Cerrahpaşa), Kanchana Mahadevan (University of Mumbai), Inge Van Nistelrooij (Radboud University Nijmegen) and Aslı İkizoğlu (Sabancı University). 
On the third day of the conference, the panel entitled "Feminist Care for the Future", moderated by Hülya Şimga from Maltepe University, had Gaia Giuliani (University of Coimbra), Sophie Smith (University of Oxford), Semiha Arı (Inequalities Studies South Center) and Şehnaz Kıymaz (Women's Major Group - WMG) as panelists.   
The panel entitled "Transnational Feminism and Solidarity" was moderated by Ayşe Gül Altınay from Sabancı University. The panel was attended by Sumi Madhok (London School of Economics Coloniality), Selin Çağatay (University of Gothenburg), Ayşe Dursun (University of Vienna) and Jo Littler (City University of London). 
The conference ended with a closing forum co-moderated by Zeynep Gülru Göker, Begüm Acar and Aslı Aygüneş. During the forum, participants had the opportunity to dive deeply into the topics discussed at the conference.