"Turkey Energy Outlook: Energy Markets, Investments and Technologies" webinar within the Switzerland-Austria-Germany Embassies' 3-Country Business Meeting Series will be held on Wednesday, March 17 at 15:30 in cooperation with Sabancı University Istanbul International Center for Energy and Climate (IICEC) and Swiss Chamber of Commerce in Turkey.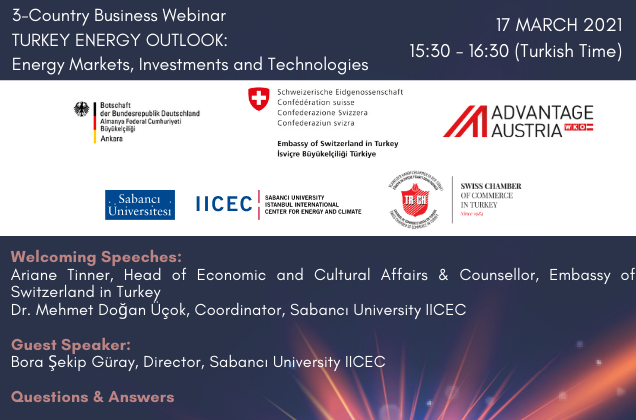 Head of Economic and Cultural Affairs & Counsellor at Embassy of Switzerland in Turkey, Ariane Tinner and Sabancı University IICEC Coordinator, Dr. Mehmet Doğan Üçok will deliver the welcoming speeches. Sabancı University IICEC Director, Bora Şekip Güray will be the Guest Speaker and will make a presentation on ''Energy Markets, Investments and Technologies'' from IICEC's Turkey Energy Outlook (TEO) which is a first of its kind study in Turkey and exemplary for emerging energy economies.
Date: Wednesday, March 17, 2021
Hour: 15:30 – 16:30 (Turkish time)
Please click to register.
** The language of the webinar will be English.