Since 2002, Sabancı Graduate Business School aims to foster internationally respected academicians that can offer research-oriented solutions to current business problems.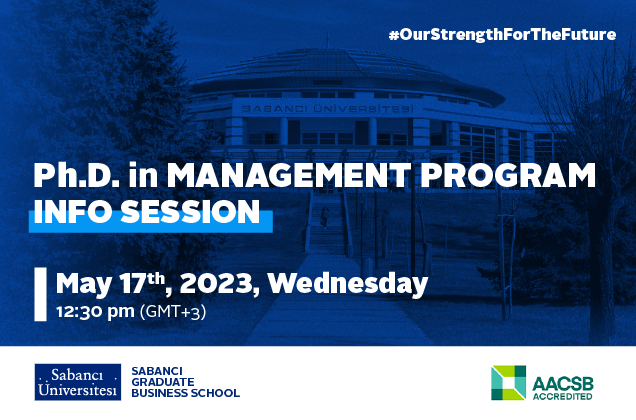 The program is integral to our plan to cultivate top-notch researchers who can undertake rigorous research in their desired fields of study. It currently offers three concentrations in the Ph.D. program: Finance, Management and Organization, Business Analytics and Operations Management.
With its strong academic faculty, research network, and infrastructure, Sabancı Graduate Business School provides a stimulating environment for doctoral candidates with an interest in management research.
There will be an online information session about the Ph.D. in Management program with the following details: 
Date: May 17th, 2023, Wednesday
Time: 12:30 pm (GMT+3)
Place: Zoom- Online
Registration: Please click the link below for registration for your attendance.
https://sbs.sabanciuniv.edu/tr/sabanci-phd-management-event-registration
For more information about our program, you can visit https://sbs.sabanciuniv.edu/en/phd-program
For any questions, you can send an e-mail to Didem Kocaer at phdman@sabanciuniv.edu