The 2019 Closing Lecture, which will be done within the scope of Commencement Days, is going to be given by Ahmet Ümit on 21th of June, Friday.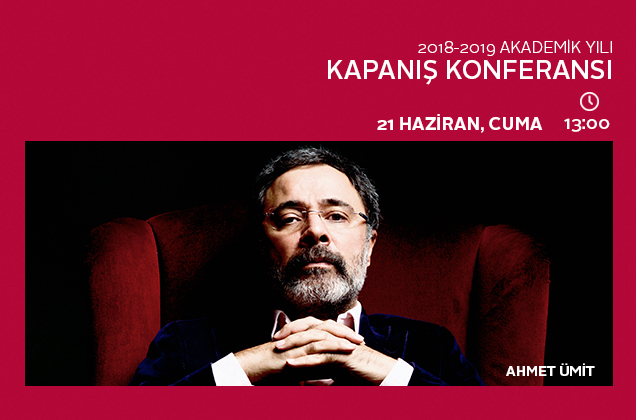 Ahmet Ümit
Ahmet Ümit was born in 1960 in Gaziantep. He graduated from Marmara University, Public Administration in 1983. He studied at the Institute of Social Sciences in Moscow between 1985-86. Ahmet Ümit is the most wel known crime and crime writer in the world.
He wrote his first story in 1982, this story is pubished in a magazine which is translated into 40 languages.
His first book, Stash (Poetry), was published in 1989. This book, has been followed by Barefooted Night (Story), Fairy Tale in Fairy Tale (Tale), One Sound Splits Night (Novel), Fog and Night (Novel), Snow Smell (Novel), Agatha's Key (Novel), Patasana (Roman) , Puppet (Roman), Satan in Detail (Roman), Beyoğlu Rhapsody (Roman), Love Dogism (Roman), The Flock (Roman), Ninatta's Bracelet (Epic), Map of the Human Spirit (Trial), Non-Country (Fairy Tale) He followed, Bab-ı Esrar (Novel), İstanbul Memory (Roman), To kill a Sultan (Roman), Beyoğlu's Most Beautiful Brother (Roman), Goodbye Beautiful Motherland (novel) and finally Swallow Scream (novel).
From the stories of Captain Nevzat, the Death of the Florist, Captain Nevzat, the Temple Whores and the Captain Nevzat, Who Killed Drummer David? three comics are made. Seventy-five books have been translated into twenty-six languages and tales and novels of Ahmet Ümit have been taught as an auxiliary textbook in schools.
His novel Mist and Night was adapted by Turgut Yasalar and his novel One Sound Splits Night was adapted to the feature film by Ersan Arsever.
Two different series of films were written by Uğur Yücel from his stories, Running in the Dark, and Cevdet Mercan by Satan in Detail.
His story called 'Love Doggies' has been scripted and was put on stage by Akla Kara Theatre.
Developing awareness of the city, increasing the sensitivity to historical cities and developing multiculturalism he made a program called City You Live and together with his two author friends he made a tv program called Words Before Mentions.