Offering professionals opportunities for development in different areas through the training programs it designs, Sabancı University Executive Development Unit (EDU) has announced its program for May. According to the announcement, those who register for the "Finance for Executives" and "Lean 6 Sigma Green Belt" training programs by April 30, 2021 will be able to benefit from a 15% early registration discount.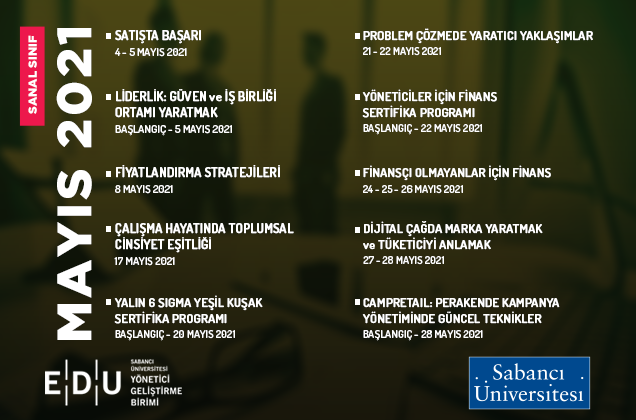 The Finance for Executives Certificate Program, which targets executives who want to develop themselves in the field of finance and entrepreneurs who want to manage the financial performance of their companies, is composed of 6 modules. The training program will cover all the main areas of finance, from analysis of financial statements to risk management, and will start on May 22.
The Lean 6 Sigma Green Belt Certificate Program will enable learners to develop their skills in solving efficiency, quality and variability-related issues by using Green Belt problem solving tools. The Lean 6 Sigma Green Belt Certificate Program includes 10 full days of training and 6 hours of individual coaching training and the Program will start on May 20.
Targeting professionals wishing to develop their leadership skills, the Leadership: Building an Environment of Trust and Collaboration training program will enable learners to apply what they learn through group coaching and learning from one another in their professional life. The training program will start on May 5.
EDU's other training programs for May include Success at Sales (May 4-5), Creative Approaches to Problem Solving (May 21-22), Pricing Strategies (May 8), Finance for Non-Financial Executives (May 24-25-26), Gender Equality in the World of Work (May 17), Creating a Brand and Understanding Consumers in the Digital Age (May 27-28), Campretail: Contemporary Techniques in Retail Campaign Management (May 28).
For detailed information about and registration for training programs, please visit https://edu.sabanciuniv.edu/tr/acik-egitimler.