However hard the times that we are going through may be, we believe the strength we derive from our being together makes the day easier. We have many needs to meet to boost this strength, and the access of students to educational technologies tops the needs list.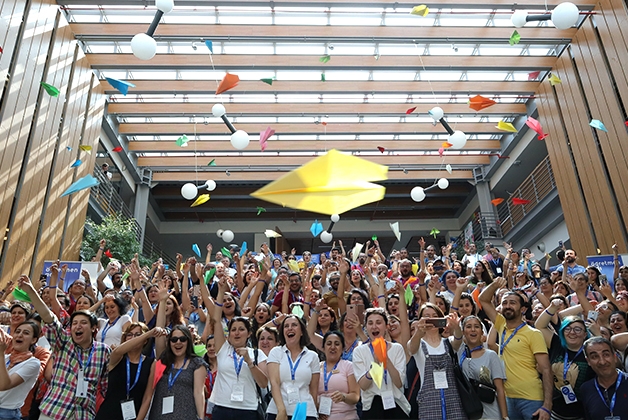 The Teachers Network, which aims at teacher empowerment through creating a sustainable learning environment in which teachers can collaborate with their colleagues and stakeholders in education from various disciplines, has cooperated with TeknoSA to cater for the tablet needs of students. Used tablets provided by TeknoSA have been distributed to more than 100 children in 4 provinces through the Teachers Network, and have thus been re-introduced to education.
Teachers giving the tablets to the students said the following:
"The day when we distributed the tablets turned out to be the birthday of one of our students, and the student's mother shed tears of joy. She said 'I was brooding all day, and praying for something like this to happen. Thank God, it did happen!'."
"These small kindnesses will lead to beautiful things, they pave the way for it. Many thanks to everyone who put their effort into it."
"Thank you all so much. I already informed the school administration. I cannot thank you enough for giving a hand. The children were really suffering. You are great people! Luckily, we have the Teachers Network."
What does the Teachers Network do?
The Teachers Network aims to ensure that teachers uncover their potential by using their own know-how and skills and learning from their colleagues and from stakeholders in other disciplines, and develop solutions to their needs through blended learning. For this, the Network aims at teacher empowerment by creating innovative methods and tools.
The Teachers Network is supported by 6 leading foundations that operate in the field of education in Turkey, namely Mother Child Education Foundation (AÇEV), Aydın Doğan Foundation, Enka Foundation, Mehmet Zorlu Foundation, Sabancı Foundation and Vehbi Koç Foundation.
The Teachers Network performs its operations under the Education Reform Initiative.
Education Reform Initiative (ERG)
The Education Reform Initiative (ERG) is an independent and not-for-profit think-and-do-tank that contributes to systemic transformation in education for the development of the child and society through sound evidence, constructive dialogue and innovative/critical thinking. Evidence-based decision-making processes in education concerning stakeholder engagement and ensuring the access of all children to quality education are the key elements of systemic transformation.
ERG, established in 2003, is a good example for Turkish civil society as it is an initiative supported by leading foundations in Turkey.
For more information, please visit www.ogretmenagi.org,