The Distinguished Research Fellows Spring Meeting 2023, where members of Sabancı University's "Distinguished Research Fellowship" program will give a series of seminars, will take place between March 22 and 25.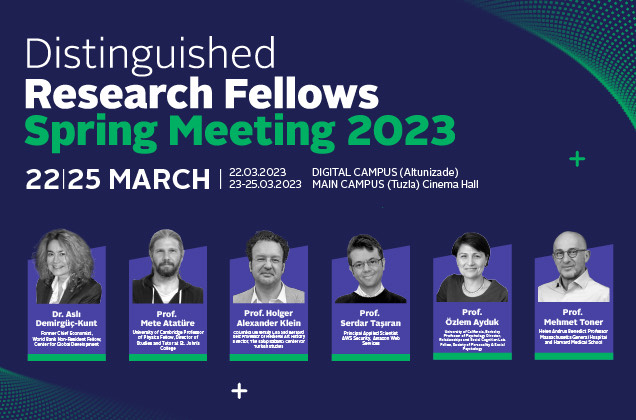 Members of the "Distinguished Research Fellowship" program of Sabancı University, each of whom is a world-class authority in their own field, and who work at leading universities and institutions in the world, come together at an important event.
On the first day of the activities to be held on Sabancı University Tuzla Campus and Altunizade Digital Campus, Aslı Demirgüç-Kunt, who served as the Chief Economist for the Europe and Central Asia Region at the World Bank and is currently working as a Non-Resident Fellow at the Center for Global Development, and Mete Atatüre, Professor of Physics at the University of Cambridge and Director of Studies and Tutor at St. John's College, will give a seminar at Altunizade Digital Campus.
On the second and third days of the event, we will have seminars in the cinema hall of our Tuzla Campus that will be delivered by Holger Alexander Klein, Lisa and Bernard Selz Professor of Medieval Art at the Columbia University and Director of the Sakıp Sabancı Center for Turkish Studies at Columbia University, Serdar Taşıran, Principal Engineer at Amazon Web Services, Özlem Ayduk, Professor of Psychology at the University of California, Director of the Relationships and Social Cognition Lab, fellow at the Society of Personality & Social Psychology, and Mehmet Toner, Professor of Biomedical Engineering at Massachusetts General Hospital and Harvard Medical School.
Our event will end on Saturday, March 25, the fourth and last day, after the meetings where our Fellows will come together with our faculty members and students.
We will be pleased to see all of our faculty members and students among us in this seminar series that will be attended by our valuable fellows.
Program details:
         22 March:  15:00 Aslı Demirgüç-Kunt seminar (Zoom) @ Altunizade Digital Campus
               16:00 Mete Atatüre seminar @ Altunizade Digital Campus
        23 March:  11:00 Holger Klein seminar @ Tuzla Campus, Cinema Hall
               14:00 Serdar Taşıran seminar @ Tuzla Campus, Cinema Hall
        24 March: 11:00  Özlem Ayduk seminar @ Tuzla Campus, Cinema Hall
              14:00 Mehmet Toner seminar (Zoom) @ Tuzla Campus, Cinema Hall
        25 March:  Meetings with faculty members and students @ Tuzla Campus
               with Mete Atatüre, Holger Klein, Serdar Taşıran, Özlem Ayduk
               (Start time: 11:00)