Sabancı University Executive Development Unit, EDU, continued its rise in the annual Financial Times rankings that evaluate the Executive Education Customized Programs designed for the business world globally.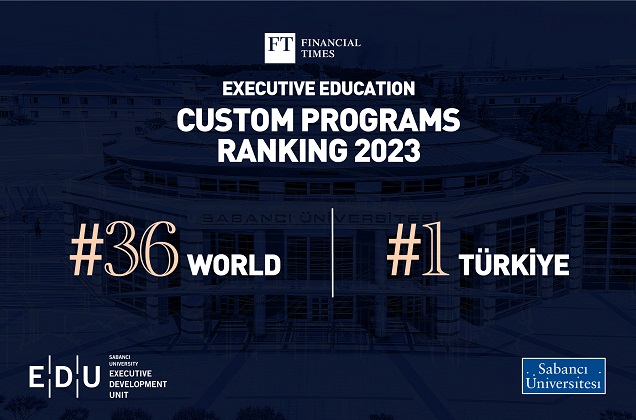 In the Financial Times Executive Education Customized Programs 2023 rankings, EDU has ranked 36th, moving up 42 places in total since 2018. Maintaining its leadership this year in Turkey as in previous years, EDU continues to contribute to the business world with its programs designed with innovative learning tools by following the developments in the world.
Number One in the World in Total Responses
Sabancı University EDU Director Gonca Börekçi Baybaş shared her views on the success of EDU and said:
"We are proud to leave behind some of the world's most important and well-established universities this year, as in previous years. We are still a pioneer and leader not only in Turkey but also in our region with the evaluation results we have obtained in many criteria. This success we have achieved together with our learning partner companies and our contributing education partners will continue exponentially in the years to come. We will continue to contribute to the future of the business world with this success, which further strengthens our university's place in the world and our leading position in the field of executive education in Turkey."
Entering the Financial Times Executive Education Customized Programs world rankings for the first time in 2018 in 78th place, EDU ranked 58th in 2019 and 55th in 2020. The rankings were not announced in 2021 due to the pandemic. EDU ranked 42nd in the 2022 rankings.
In addition to rising to 36th place in the overall evaluation in 2023, EDU ranked 1st in the "Total Responses" category, 16th in the "Future Use" category, 10th in the "Growth" category, and 30th in the "New Skills and Learning" category.
This year, 75 institutions from around the world were included in the Financial Times Executive Education Customized Programs rankings. You can find more information about the rankings on Executive Education Custom 2023 - Business school rankings from the Financial Times - FT.com.