Sabancı University Istanbul International Center for Energy and Climate (IICEC) is organizing a Webinar entitled "Secure & Clean Energy Perspectives: Global & Türkiye".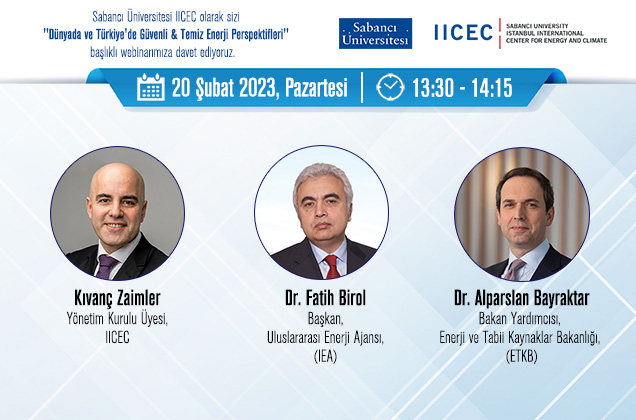 The webinar will be held on Monday, February 20, 2023, between 13:30 - 14:15 hrs, and will be broadcast live on the IICEC Website. Kıvanç Zaimler, IICEC Board Member, Dr. Fatih Birol, Executive Director of the International Energy Agency (IEA) and Honorary Chair of IICEC, and Dr. Alparslan Bayraktar, Deputy Minister of Energy and Natural Resources, will be the speakers of the event.
To Register for the Webinar:
https://iicec.sabanciuniv.edu/tr/webinar-kayit-formu
The medium of language will be Turkish, and simultaneous translation to English will be provided.