Melsa Ararat, the Director of Corporate Governance Forum at Sabancı University, spoke at the LEAD Network Turkey CEO event and clarified the problems regarding women's participation in company management.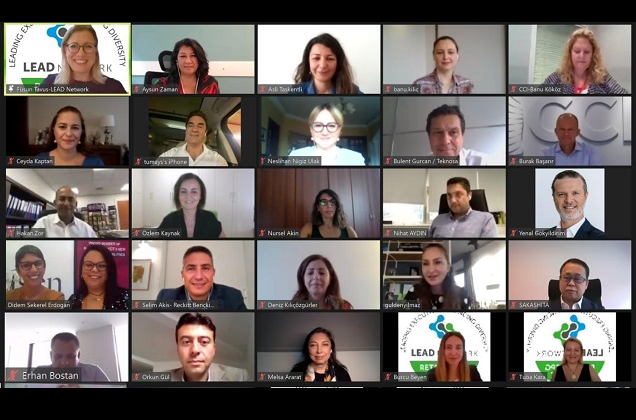 Ararat shared the current data and said: "According to a study we have just completed, the number of female CEOs in publicly traded companies in Turkey is 16 in 2020. In other words, 3% of all publicly traded companies has a female CEO.  While the ratio of women in boards of directors is 17%, such a low ratio of female CEOs is not unique to Turkey. This tells us that while women have been able to access board positions as a result of investor and stakeholder pressure, there is no or very slow progress in executive positions. However, those who determine the future of companies, their strategic orientation, and the purpose of their activities, that is, those who define the essence of the company's relationship with markets, society, and stakeholders are CEOs and their team."
Referring to studies on the impact of the pandemic on women's working and private lives, Ararat said that women undertook increasing housework much more than men and thus displayed more physical and psychological stress symptoms during this period of working from home. She noted that, according to another study that they conducted, women experienced a significant increase in the rate of all kinds of pressure and violence inflicted by men with whom they had close relationships during the pandemic. Ararat said: "Although many international studies demonstrate that working from home increases productivity and in some cases innovation, it should be kept in mind to enable women to participate more effectively in working life that, in some cases, the workplace may be the safest environment for women, where they are most valued and supported."
The basis of the round table meeting of the LEAD Network CEO event was the question of "How do we fix the career pipeline where the number of women decreases with every step?" Ararat listed other questions that need to be discovered as follows: "How do we prevent segregation of jobs based on gender and eliminate our conscious or unconscious biases in hiring and promotion? How do we encourage working women under double burden to set higher goals for themselves? If it is not possible to creating change without setting goals and determining appropriate policies and methods, how do we ensure that these goals are bold and owning at the top level?"
Aysun Zaman, Chair of the LEAD Network Turkey, gave the opening speech in the event held on 22 September 2020, Tuesday and said: "We have to do something together. The women's unemployment rate has reached 32%, the wage gap between men and women doing the same job is 16%, and women can only earn 84% of men's earnings despite doing the same job." It was noted in the event that it is predicted that women will decide on how to spend and manage 75% of the family budget by 2028, excluding the essential household expenditures.
The participants of the event included CEOs of significant companies in the industry such as the LEAD Network Turkey's corporate members CEO of A101 Erhan Bostan, CEO of Arzum Mete Zadil, General Manager of Atasun Optik Nihat Aydın, General Manager of AVON Turkey and North Africa & Middle East Orkun Gül, General Manager of Barilla Piero Mirra, General Manager of Barry Callebaut Turkey Neslihan Nigiz Ulak, CEO of Coca-Cola Burak Başarır, CEO of Dydo Drinco Turkey & Russia & UK Tadashi Sakashita, General Manager of GSK Turkey Özlem Kaynak, General Manager of HARIBO Hakan Zor, General Manager of Henkel Turkey Güray Yıldız, General Manager of Lila Group Alp Öğücü, Founding Partner of KOTON Gülden Yilmaz, CEO of Media Markt Yenal Gökyıldırım, CEO of Migros Özgür Tort, CEO of Nestlé Turkey Ansgar Borneman, Senior Vice President of Nielsen Analytic Consulting Didem Şekerel Erdoğan, General Manager of NIVEA Beiersdorf Turkey Mustafa Birhan Hazer, General Manager of PepsiCo Ece Aksel, General Manager of Pernod Ricard Selçuk Tümay, Chairman of the Board of Directors of Procter & Gamble Tankuter Turnaoğlu, General Manager of Reckitt Benckiser Turkey Abhishek Chuckarbutty, General Manager of RB Iberia Selim Akiş, General Manager of Tchibo Turkey Tuba Yapıncak, General Manager of Teknosa Bülent Gürcan, CEO of UNO Evin Pehlivanlı, Chairman of the Board of Directors of Unilever Mustafa Seçkin.