Starting from 2021-2022 academic year, two new Ph.D. programs by Graduate School of Social Sciences will be accepting students who aim to get a degree on Experimental Psychology and Social Psychology.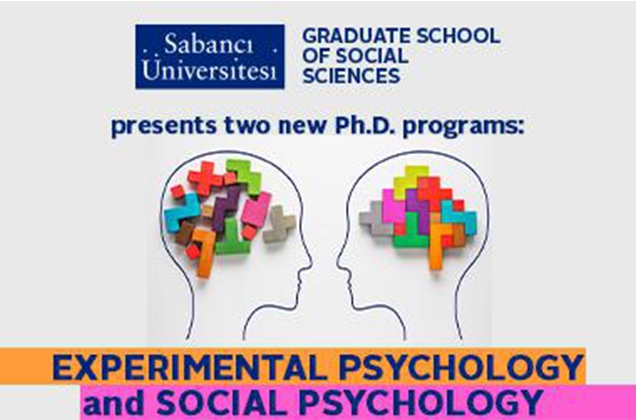 The Doctor of Philosophy (Ph.D.) program in Experimental Psychology at Sabancı University is designed to train students to conduct experimental research, particularly in cognitive psychology and cognitive neuroscience. Each graduate student will conduct research with one or more faculty members. Students will gain hands-on experience in developing research questions and appropriate experiment designs, preparing experiments (e.g., by programming software in Matlab or Python), collecting and analyzing data, and handling the publication processes.
As a result, graduate students will act more like researchers than students. The hands-on research practices will be coupled with a course curriculum designed to provide advanced theoretical knowledge in research practices, programming, signal processing, perception, attention, working memory, episodic memory, cognitive control, language, imagery, emotions, driver behavior, and human-robot interaction. The classes will be combined with lab meetings, journal clubs, brown bag meetings, and colloquia, allowing the students to stay up-to-date with the latest advances in research. At the end of their studies, our graduates will be expected to be equipped with the skills and knowledge that will enable them to grow as successful, independent researchers in cognitive psychology and neuroscience. This set of skills will allow graduates to pursue jobs in academia or applied research settings.
The Doctor of Philosophy (Ph.D.) Program in Social Psychology at Sabancı University offers a research-oriented training by using advanced research methods in the scientific study of human behavior among individuals and groups. Our program has a number of laboratories equipped with cutting-edge technical tools to conduct social psychological research at individual, dyad, and group levels. Doctoral students will gain a solid knowledge of research methods and advanced statistics, and will be actively involved in diverse research projects as early as their first semester.
Students will also be able to benefit from other laboratories in the university and have the opportunity to participate in interdisciplinary studies by collaborating with the researchers from other graduate programs.With a strong research agenda, we help students build and sustain an initial momentum in making scientific publications as well as integrating with the international research community by actively attending international conferences and developing research collaborations. Our research in the program particularly focuses on relationships between individuals and groups and represents the rich spectrum of social psychology from social development to group processes.
Our social psychology faculty members conduct research on parent-child relationships and language development in early life, formation, maintenance, and termination of adult social and intimate relationships, family dynamics, attachment, the interplay between memories and social relationships, self-regulation, culture, intergroup contact, prejudice and discrimination, and well-being. Starting from the first year, students will take active part in the currently running studies. In sum, the main goal of our research and practice-based doctoral education is to fully prepare our graduates as competent and productive academics and researchers, and practitioners in the related arenas at the international level.
The deadline for applications for Experimental and Social Psychology (Ph.D.) is August 2, 2021.
Please click here to view the application requirements and scholarship opportunities.