Organized by Sabancı University Nanotechnology Research and Application Center (SUNUM), the Nano Open Webinars continue with a webinar entitled "EU Green Deal, sustainable living, threats and opportunities" that will be delivered by Prof. Nuri Azbar, from Ege University Faculty of Engineering Department of Bioengineering, at 11:00 on Wednesday, June 7, 2023.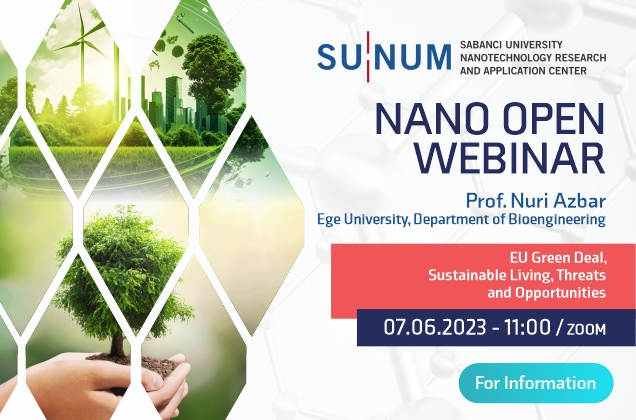 In his speech, Prof. Azbar will touch on the environmental problems that threaten the living life on our planet, the solutions proposed by the EU Green Deal considering these threats, the importance of the Green Deal for Turkish industrialists and scientists and the messages it gives.
To register for the Nano Open Webinar that will take place on Zoom on June 7, 2023, at 11:00. http://otolab.sabanciuniv.edu/SUNUMActivityRegistrationForm
About Prof. Nuri Azbar
Mr. Azbar graduated from Dokuz Eylül University Environmental Engineering in 1990 and completed his master's degree at the same university in 1993. In 1999, he completed his PhD focusing on the design of various anaerobic bioreactor configurations in the Department of Civil and Environmental Engineering at Vanderbilt University in the United States.
Mr. Azbar, who has an special interest on renewable energy alternatives, works on subjects such as "Industrial Ecology and Sustainable Clean Production in Industry", Sustainable Campuses", "Industrial Wastewater Treatment" and teaches undergraduate and graduate courses. He contributes to environmental developments in the industry and society with its joint works with the Chamber of Industry, the Chamber of Environmental Engineers and the Environment-themed associations.
Prof. Dr. Nuri Azbar is currently a faculty member at Ege University, Faculty of Engineering, Department of Bioengineering. The basic educational approach and vision of the Bioengineering Department is the "Biorefinery" concept, and he carries out research and training activities for the production of high value-added outputs from waste materials. Mr. Azbar, who has been working on the harmonization of our Turkish Industry within the scope of the EU Green Consensus, is the author of the book entitled "Green Industry Guide from the European Union Green Agreement Window".