Sabancı Business School is pleased to announce that all SBS programs have been re-accredited by AACSB for a period of five years.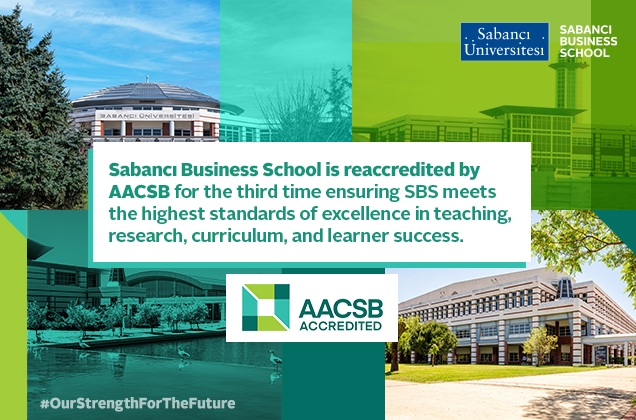 Established in 1916, AACSB International (AACSB), a global non-profit association, is the world's largest business education alliance, connecting educators, learners, and business to create the next generation of great leaders. Synonymous with the highest standards of excellence since 1916, AACSB provides quality assurance, business education intelligence, and learning and development services to over 1,850-member organizations and more than 950 accredited business schools worldwide. AACSB's accreditation processes are ISO 9001:2015 certified.
When educational, professional, and business organizations become members of the AACSB Business Education Alliance, they are part of a movement united to improve the quality of business education around the world. AACSB connects, shares, and inspires innovation and quality throughout the member network, as well as the business community. The collective strength of the organization is founded on diverse perspectives, a global mindset, and a commitment to making a difference.
As of June 2022, The AACSB Peer Review Team confirmed that SBS outstandingly meets all the standards that AACSB requires. 
Remarking that the Sabancı Business School has extended its AACSB accreditation for the third time thanks to the endeavors of all SBS stakeholders, Dean Prof. Nihat Kasap commented: "We are proud to extend our accreditation for the third time, this achievement means a lot. It is the output of our efforts and demonstrates how Sabancı Business School focuses on excellence in all areas: research, teaching, curricula development, student learning. I would like to extend my special thanks to SBS AACSB Team for their dedicated focus, extra hours and collaboration. I also would like to thank for the support of our internal and external stakeholders attending sessions including our all Faculty members, advisory board members, students and alumni. Thanks, and congratulations to "All" for making SBS Continuous Improvement possible."