TÜBİTAK President Hasan Mandal visited Sabancı University and made a presentation entitled "TÜBİTAK Strategies" to faculty members.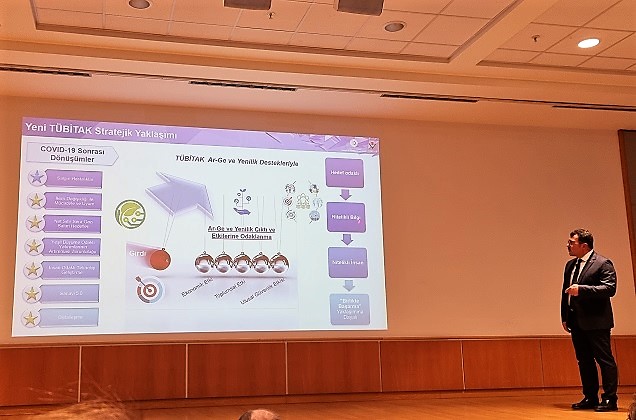 At the meeting held on Friday, October 14, 2022, Hasan Mandal said, "Pandemics will be one of the important agenda items in the next 10 years. In addition, issues such as green transformation, climate change, loss of biodiversity, extreme climatic events, food supply security, cyber security, and problematic immigration are among the issues that stand out for the future. At TÜBİTAK, we also prioritize these issues in our efforts".
Mandal continued as follows: "Traditional solutions are not enough to overcome the difficulties experienced. We are entering a period when social and human sciences will be much stronger. The sociotechnical dimension is becoming more and more important in the technologies developed. Industry 4.0 alone is not enough after the pandemic. Therefore, the green-digital binary transformation is the main agenda of research policymakers. In this context, the European Commission talks about the concept of Industry 5.0 and adopts the ESG (environment, social, government) approach in its programs. We also attach importance to the main components of sustainability, flexibility against risks, and strong people orientation in TÜBİTAK programs".
Mandal also shared information about current TÜBİTAK programs. In his presentation, Mandal emphasized that Sabancı University has very high potential in many fields and that it is the only university that stands out in some projects such as SAYEM.
Stating that they have made many innovations in supporting scientific and technological research projects recently, and that there are many steps ranging from facilitating application processes to increasing support budgets, Hasan Mandal answered questions from Sabancı University faculty members following his presentation.