Sabancı University Collaboration Space Manager Erdem İnanç pools 3D printer owners, software developers and designers for supporting the combat against Covid-19.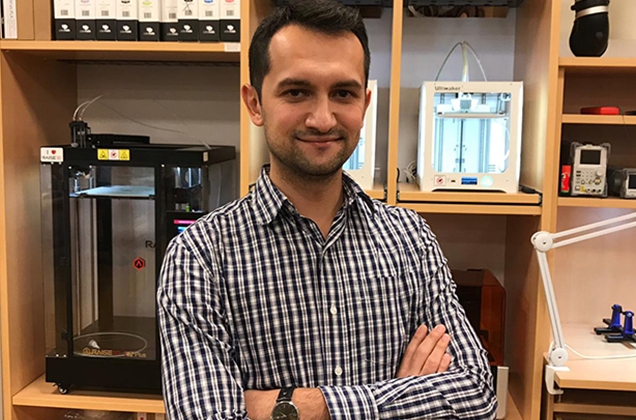 Collaboration Space Manager Erdem İnanç
Sabancı University Collaboration Space Manager Erdem İnanç made a call to designers and software and hardware developers asking them to help produce medical instruments and personal protection equipment for healthcare professionals and he was able to reach out to almost one thousand volunteers in a short time.  
Creating the entirely voluntary kitleseluretim.org platform with his colleagues Ahmet Alpat, Yaşar Celep, Mert Mumcu and Umut Yıldız, with the aim of supporting Turkey in its fight against Covid-19 with low cost personal protection equipment for healthcare professionals and medical instruments for the patients, Erdem İnanç stated that they have now reached an adequate number in terms of 3D printers, software developers and designers, and they already asked healthcare professionals for information regarding their needs for supplies and equipment. 
A decentralized platform is created
Named as the Mass Production Movement, the purpose of this independent and decentralized initiative is to match available production and human resources capacity with the needs for an effective fight against the Covid-19 outbreak. Founders of the platform stated that they believed this collaborative production can potentially mitigate the damage of the outbreak. 
List of needs expected from healthcare professionals
Emphasizing that they can provide support for the production of supplies needed for medical staff in healthcare and hospitals such as protective masks, visors, respirators and oxygen concentrators, İnanç said they were expecting a list of potential needs from healthcare professionals.  
Click on the link below for  interview with Collaboration Space Director Erdem İnanç on Medyascope.tv.
About Collaboration Space
Founded in Sabancı University Information Center Collaboration Space serves as a hub for DIY projects, creativity, and sharing ideas.  Its Makerspace area is equipped with 3D printers, 3D scanners, electronic and hardware supplies. Collaboration Space organizes workshops and trainings for users, and offers a space for learning by doing, learning from mistakes and co-production. Once the users produce a prototype that is eligible for a venture, developers receive funding and mentoring support from SU ASSET program for encouraging entrepreneurship in Sabancı University.