Sabancı University students can visit the Arts of the Book and Calligraphy Collection, Painting and Sculpture Collection, and Decorative Arts and Archaeological Artifacts collections, as well as the temporary exhibitions held at the museum since its inception, free of charge.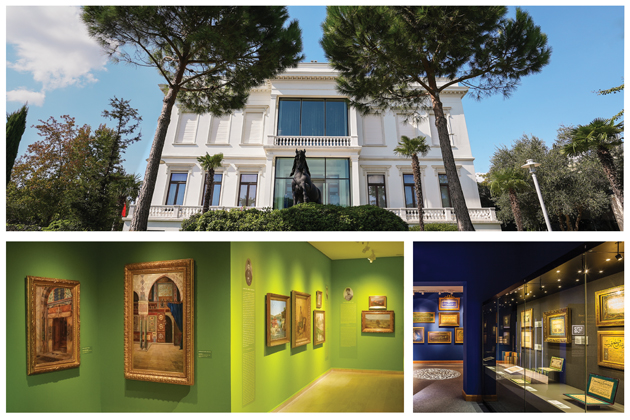 The Sakıp Sabancı Museum's Arts of the Book and Calligraphy Collections spans the fourteenth to the twenty-first centuries, offering a comprehensive journey through time. The Painting and Sculpture Collection reflects the period of modernization from the Ottoman Empire to the Turkish Republic. The Decorative Arts Collection is on view in the Atlı Köşk, while the Archaeological Artifacts Collection can be found in the SSM Garden, alongside sculptures by contemporary artists such as Anish Kapoor, Tony Cragg, Ai Weiwei, and Seyhun Topuz.
Since its inception, the museum has also showcased works by artists who have shaped the history of art, through temporary exhibitions focusing on Pablo Picasso, Auguste Rodin, Salvador Dalí, Rembrandt and his contemporaries, Joan Miró, Claude Monet, Anish Kapoor, Ai Weiwei, Marina Abramović, and David Hockney, among many others. In addition, it has dedicated monographic exhibitions to prominent Turkish artists such as Abidin Dino, Feyhaman Duran, Selim Turan, Hüseyin Avni Lifij, and Abdülmecid Efendi. The Sakıp Sabancı Museum is also responsible for introducing Turkish audiences to seminal artistic movements, such as Cobra, Zero, and the Russian Avant-Garde.
With nearly 4,000 catalog records and over 77,000 images, digitalSSM, a comprehensive database that contains information compiled since the foundation of the museum, offers unrestricted access to the museum's collections and archives—a valuable resource for scholars, researchers, and students around the world.
To explore the museum's captivating collections and immerse yourself in the temporary exhibitions free of charge, simply present your student ID at the museum's ticket office.
For the latest exhibitions and events, visitwww.sakipsabancimuzesi.org