To celebrate the 20th year of our university, we have prepared a set of four questions to ask faculty and administrative personnel who have been with us since the beginning, and to our first students. They all tell "the story of 20 years" from their own perspectives.
Going in alphabetical order, this week's interviewee for "The Story of 20 Years" is Albert Erkip.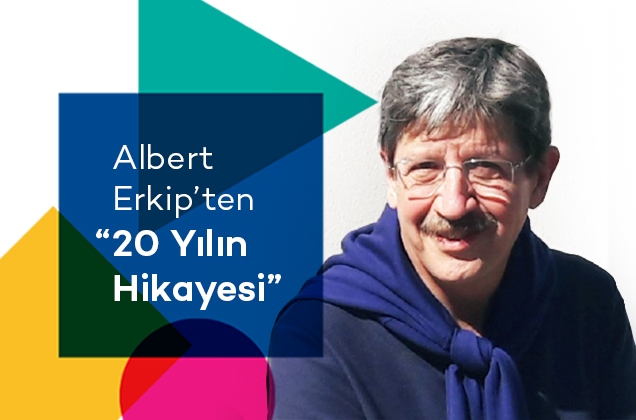 Albert Erkip has been a member of Sabancı University since September 1, 1998. He has been a member of the Sabancı University Faculty of Engineering and Natural Sciences for 22 years. Albert Erkip's answers to our four questions are below.
What was your initial memory / impression of when you met Sabancı University for the first time?
A.E: My most distinct memory of Sabancı University is about the Karaköy building, although I had met the university before that. It must be the summer of 1998, when the university had just moved from Sabancı Center to Karaköy. Alev (Topuzoğlu) and I came from Ankara and attended a meeting in Karaköy. I remember the building, the vibrancy of Karaköy, the colleagues I met there, my future friends, Hilmi (Çelik) Bey giving us a tour of the mini Information Center in Karaköy, the overall excitement...
But what stuck with me most was the worn and slippery steps of Minerva Han. The first thing I did when I went back to Ankara was to buy a pair of non-slip shoes.
What are the differences between yourself 20 years ago and yourself today, and how did Sabancı University contribute to that change?
A.E: One obvious difference is that I'm older! Joking aside, we came together 20 years ago to design a dream. We weren't sure about what to do, and we were trying to find out how to do it. It is a pleasure to see most of that dream come true in 20 years, and feel that all of us played a part in it. We created and developed together, but I'm not sure if we could pull this off without Tosun Terzioğlu and his encouragement, organization, and skill in collating disparate ideas and turning them into action.
After 20 years, I'm happy to be a part of this university. I don't think I would feel the same in another university; at Sabancı, I felt like a part of a successful experiment, which is both exciting and proud.
What comes into your mind when you think of Sabancı University in 20 years? What are your dreams for Sabancı University for the next 20 years? What about yourself?
A.E: In 20 years, I expect and hope Sabancı University to preserve its unique structure to an extent, and continue to be a trendsetting institution in Turkey and the region. Of course, many things will evolve over time, but I think that our core values, and the priority given to employees and students, will be preserved and improved.
It's difficult for me to be a part of this institution in 20 years. Optimistically, I'll be watching from the sidelines!
Where and how would you be now if your paths hadn't crossed with Sabancı University?
A.E: If it weren't for Sabancı, I would not have considered leaving METU. I started there, I grew there; I was happy there. The two reasons I joined Sabancı were the attraction of being a part of an experiment, and the confidence exuded by Tosun Terzioğlu. I'm not sure I could have found that attraction and confidence somewhere else, at another time. Ultimately, I'd have stayed at METU. And if I had, I'd have had retired three months ago. But I'm still a part of Sabancı University, even though I may be staying home.