Having admitted its first students on October 20, 1999, Sabancı University celebrates its 20th anniversary in the 2019 – 2020 Academic Year. As the Sabancı University community, we are excited and proud to celebrate our 20th year.
For 20 years… We have been creating and developing together. Courageous and confident in our knowledge, we the Sabancı University community have been looking to the future, building the future, wherever we may be in the world. For 20 years, we have been looking into the future.
We remember, with the deepest of respect and warmest of regard, members of our community who are no longer with us: Honorary Chairman Sakıp Sabancı, first Board of Trustees member Işık İnselbağ, Founding President Tosun Terzioğlu, Founding Secretary-General Hüsnü Paçacıoğlu, Founding Information Center Director Hilmi Çelik, School of Management faculty members Hakan Orbay, Ziya Boyacıgiller; Faculty of Arts and Social Sciences members Erdal İnönü, Şerif Mardin, Dicle Koğacıoğlu; Faculty of Engineering and Natural Sciences members Gürsel Sönmez, Plamen Djakov and Yuda Yürüm; School of Languages Lecturer Meral Güçeri and Information Technologies Administrator Melda Sunman, each of whom have contributed to the foundation of Sabancı University, the creation of its unique education system, construction of the campus -- in every aspect of the making of a university.
To celebrate the 20th year of our university, we have prepared a set of four questions to ask faculty and administrative personnel who have been with us since the beginning, and to our first students.
The first in the series of weekly interviews, published in alphabetical order, is Ahmet Öncü.
Ahmet Öncü has been a member of Sabancı University since July 1, 1998. She has been a Sabancı University School of Management faculty member for 22 years. Ahmet Öncü's answers to our four questions are below.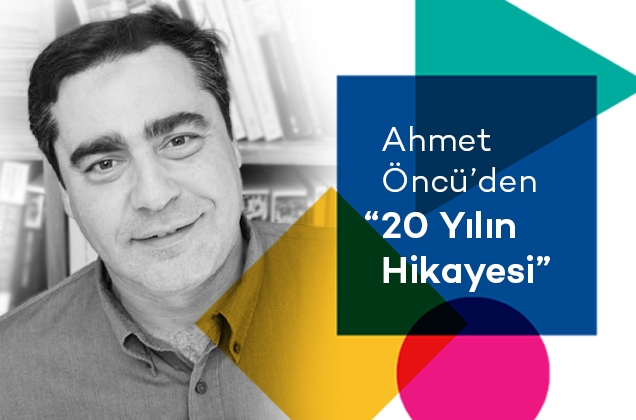 What was your initial memory / impression of when you met Sabancı University for the first time?
A.Ö: My most unforgettable memory about Sabancı University is my first one. In the winter of 1996, I had completed my PhD, and returned from Canada with my family to work at Bilkent University, one of the best in Turkey. It was the beginning of a new era. My students, new colleagues, the excitement of having returned to the country, and the difficulties and niceties that came with it meant that time flew by. By the winter of 1998, we had settled in to our new lives.
Meanwhile, we knew that Sabancı University was being established and would soon open for education. The late Professor Tosun Terzioğlu was being named Founding President, and the Founding Dean of the School of Management would be another one of our professors, Muhittin Oral. One evening, I received a phone call saying that Tosun Hoca and Muhittin Hoca were expecting me in Istanbul. Obviously, I told my wife. "I think they are going to offer me a job" I said. She looked at me as if to say "Are you for real?" because she felt like our lives would be uprooted once again, just when things were beginning to get in order. I had mixed feelings when I met Tosun Hoca and Muhittin Hoca, and I didn't know what to say. They said they wanted to work with me, and offered me a position. They didn't even wait for my response! They started talking about what kind of a place the new university would be. As they spoke, I began to realize that even the campus didn't exist: I began to think about how I could persuade my wife. And then the scale model of the campus came out, sending me into even deeper worry. I was thinking to myself, "They'll never get to finish this." Tosun Hoca, calm as ever, was talking about Sabancı University as if it actually existed! Sometimes Muhittin Hoca would chime in, and then the two would talk to each other about some other thing that also didn't exist. Watching them, I realized something: They were talking about a dream as if it were real--their dream was more real to them than reality. They knew they were building something new. I felt that I wanted to be a part of this organization right there and then. Finally, they asked, "So, what do you say?" I remember saying: "I'm sold, but I need to ask my wife." They laughed knowingly. Persuading my wife wasn't hard, because my professors had already sold their dream to me.
By 1999, the campus was mostly complete, and instruction had begun. Since then, we have been chasing the same dream. Whenever I hear of the achievements of our school, I think back to those days. I always say: Those who have no dreams have no future. The future will arrive one way or another. But only those who have taken part in building it are prepared for it. From the first day, it was clear that Sabancı University would make it. So it was the right decision.
What are the differences between yourself 20 years ago and yourself today, and how did Sabancı University contribute to that change?
A.Ö: I can't even remember what I was like 20 years ago. As a 22-year member of Sabancı University, when I look back on how the university contributed to me, I find it difficult to give an answer. But I can say this: Show respect to be respected; learn to be self-confident; love to be happy; accept the wants of others to live in peace; and persevere to create.
What comes into your mind when you think of Sabancı University in 20 years? What are your dreams for Sabancı University for the next 20 years? What about yourself?
A.Ö: I don't even know if I will be alive in 20 years. But I'm sure that I will still be known as a Sabancı member. As for the university, I know it will be standing and once again imagining the future.
Where and how would you be now if your paths hadn't crossed with Sabancı University?
A.Ö: I always find it difficult to answer such questions. In fact, I'll call Nietzsche to help: "Love your fate, which is in fact your life."