To celebrate the 20th year of our university, we have prepared a set of four questions to ask faculty and administrative personnel who have been with us since the beginning, and to our first students. They all tell "the story of 20 years" from their own perspectives.
Going in alphabetical order, this week's interviewee for "The Story of 20 Years" is Ebru İçin Var.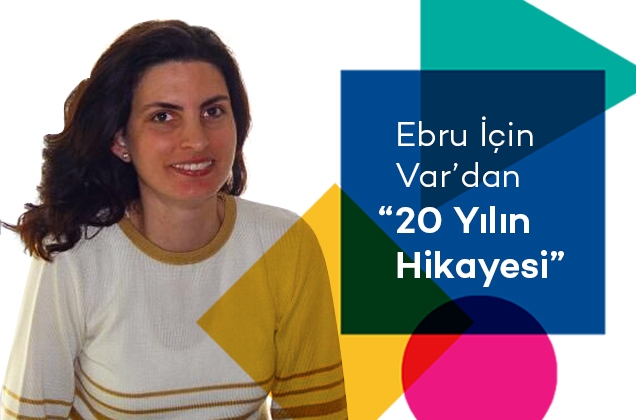 Ebru İçin Var has been a member of Sabancı University since May 3, 1999. Ebru İçin Var began her 21-year Sabancı University career as an Archive Associate in the Information Center from 1999 to 2005, and continued as an Archive Associate in the Operations and Technical Services Unit from 2006 to 2013. Since 2013, she has been a Procurement Associate in the Procurement and Operations Directorate.
Ebru İçin Var's answers to our four questions are below.
What was your initial memory / impression of when you met Sabancı University for the first time?
E.İ.V: I started at the Sabancı University Information Center on May 3, 1999. There was not much time left before the opening, and it was a hectic period. When I started in June, the campus was still under construction. We were worried about whether it would be ready for the opening, but then we found ourselves moving into our new offices in September. It was lovely to be greeted by flower arrangements on our desks the first day. The IC building was one of the first to be completed. We were sharing the building with the Faculty of Arts and Social Sciences and Faculty of Engineering and Natural Sciences, so it was like a beehive. There was great interaction between academic and administrative employees. It was a warm, welcoming environment; everyone was excited and upbeat. We had conversations, we shared our stories, and we all remember those days. We were delighted to greet our first students - I think there were 251 of them. They were all high-achievers who had made Sabancı University their first choice. I met almost all of them, and they all became highly successful after graduation. The beauty of being a new and small university was there for us. I took part in many student club activities. I got to share more with the students as I joined club activities. The thing that impressed me the most was the "creating and developing together" philosophy. That philosophy had been adopted and internalized by everyone. I think it has a lot to do with where Sabancı University is today.
What are the differences between yourself 20 years ago and yourself today, and how did Sabancı University contribute to that change?
E.İ.V: I was very young when I came to Sabancı University 20 years ago; I grew up here. Everything was within quick and easy reach here. You have excellent access to all information, events, art or culture activities, and this has had a tremendous effect on my personal and professional development.
What comes into your mind when you think of Sabancı University in 20 years? What are your dreams for Sabancı University for the next 20 years? What about yourself?
E.İ.V: In 20 years, I see a Sabancı University that has mostly achieved the targets it set in the beginning. 20 years is not a long time for a university, but I believe Sabancı University bounded and leapt during those years. It is a young university that is already a point of reference among the select universities of the world. At first, 20 years sounded like a long time, but then I remembered how quickly the first 20 years went by here. The university will be better known; a reference in more fields; perhaps larger with the addition of new programs and sciences. I will most likely be retired. :) Although I believe I will never lose contact with Sabancı University. I hope to live somewhere smaller, living a calm and peaceful life, engaging in social activities.
Where and how would you be now if your paths hadn't crossed with Sabancı University?
E.İ.V: If our paths hadn't crossed, I would have had a more conventional career. I would not have had the chance to gain all the different experiences and knowledge I acquired here. I met great people and made good friends here; some have since then moved on, but we still see each other. It is a matter of pride to be a member of Sabancı University, and I have always felt that. People always regarded me in a different way when they learned that I was at Sabancı. I will be forever proud. Thank you.