To celebrate the 20th year of our university, we have prepared a set of four questions to ask faculty and administrative personnel who have been with us since the beginning, and to our first students. They all tell "the story of 20 years" from their own perspectives.
Going in alphabetical order, this week's interviewee for "The Story of 20 Years" is Emre Erol.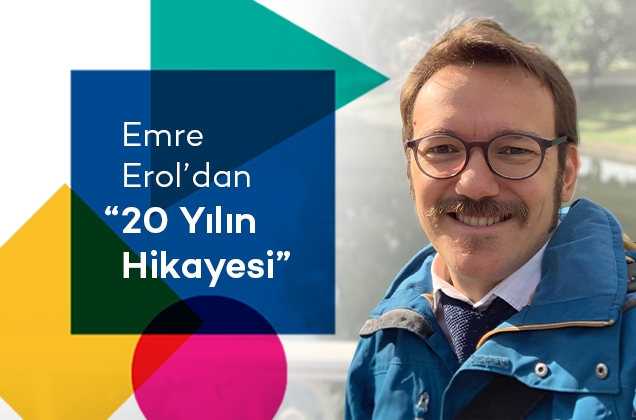 Emre Erol has been a member of Sabancı University for 20 years. As one of the first undergraduate students of the university, Emre Erol graduated from the Faculty of Arts and Social Sciences (FASS) Social and Political Science (SPS) Program, and went on to complete his master's in the FASS History Program. He has a PhD in Middle Eastern Studies from the University of Leiden, the Netherlands. Emre Erol became a member of the Faculty of Arts and Social Sciences in 2016, and has been the Foundations Development Program (FDP) Director since July 2019.
Emre Erol's answers to our four questions are below.
What was your initial memory / impression of when you met Sabancı University for the first time?
E.E.: I first met Sabancı University during a campus visit after the university exam and a few days before the selection deadline. I had been blown away, and I still remember parts of it. During that visit, I met then-Student Resources Director Zerrin Koyunsağan, and other students who later became my friends. I was impressed with how they spoke about the university, and the genuine energy they had. My score was enough for a very good program in a state university and I was prejudiced against foundation universities, but I had a change of mind after that visit. No departments, freedom to chose programs, the state-of-the-art campus construction and the overall sense of liberty that permeated dorms, common areas and everywhere else had literally enchanted me. I remember looking for an Ethernet port among the grass, in the lawn between faculty buildings, to connect to the internet as we could in all faculties. Wireless technology wasn't so widespread back then.
What are the differences between yourself 20 years ago and yourself today, and how did Sabancı University contribute to that change?
E.E.: Twenty years ago, I had no knowledge of Sabancı University, or the intellectual and personal change that would experience thanks to this university. Sabancı University is among the most important institutions that shaped my life in these past 20 years. It gave me the chance to adopt and implement values like self-confidence, science, multiculturalism and universality, which all guided me on my path to personal enlightenment.
What comes into your mind when you think of Sabancı University in 20 years? What are your dreams for Sabancı University for the next 20 years? What about yourself?
E.E.: My dream for Sabancı University in 20 years is for it to go beyond its campus boundaries in Istanbul and become a globally-recognized university. I have a dream that we can become one of the best universities of the world with our unique teaching model and cutting-edge research. I hope that the teaching model and tradition of the university will attract students from a much wider audience, so that in 20 years, more than half of the students are international. As for myself, regardless of where I am and what I do, I will be a proud Sabancı member who makes the best contributions to all circumstances.
Where and how would you be now if your paths hadn't crossed with Sabancı University?
E.E.: What my life would be without Sabancı University is hard to imagine. But it is easier to imagine what it wouldn't be. If I hadn't studied at Sabancı University, I would not be able to choose my career and specialty so freely, according to my personal choice, interest and skills.