Alumnus of Sabancı University Faculty of Engineering and Natural Sciences, Computer Science and Engineering Program, Hasan Ijaz talked to us about his projects with ELKON in the framework of the Industry-Oriented Projects ENS 491 Graduation Program. You can also experience professional life before you graduate thanks to the Industry-Oriented Projects ENS 491 Program.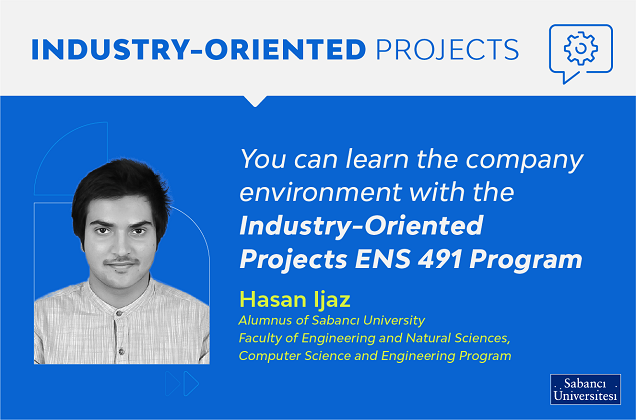 Which project did you carry out, and with which company? Can you talk to us about your project?
I worked on a project offered by ELKON to Sabancı. The project's title was "New Generation Power and Energy Management System for Autonomous Vessel Propulsion System". We had to design and implement an AI/deep learning-based system that would take parameters in real-time, process and optimize these parameters, and suggest to the captain how to operate the vessel.
Can you talk about your team and the way you worked together?
All of the project work was accomplished as a team where we met weekly with the project supervisors, ELKON supervisor, and 2 to 3 times with the team. We decided on a free slot within the team and worked together on Zoom. Online/remote work allowed has proven to be super effective by contributing to the project while sitting in the comfort of our home.
What were the benefits of attending and experiencing the Industry-Oriented Projects ENS 491 Program?
I would recommend an industry-based project to all students since you get to learn from the industry experts along with the professors at the university. You get to experience professional mentorship. You get to learn the company environment as well, thanks to the Industry-Oriented Projects ENS 491.