Run by digitalSSM Archives and Research Space within the scope of the research project titled "VARIANT. Documenting New Media Art," the conference series continue with the online program where Amsterdam University Faculty Member Annet Dekker and Rhizome's Digital Preservation Program Director Dragan Espenschied take part as speakers.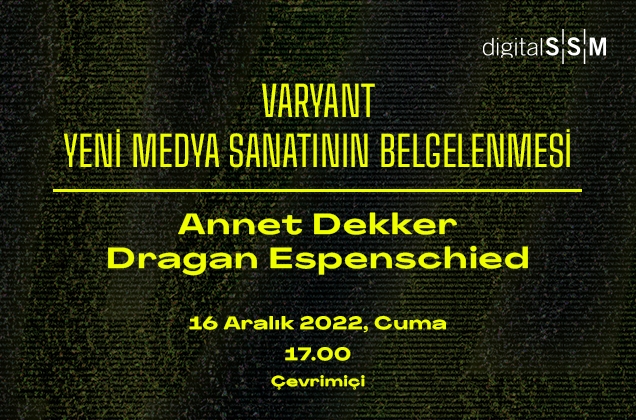 In the first part of the conference program, which will be held online on Friday, December 16 at 17.00, Annet Dekker will present several documentation projects, demonstrating how documentation can move from a static representation to a dynamic and performative act, thereby encouraging a rethinking of what documentation means. In the second part of the program, Dragan Espenschied will give a talk proposing that specific types of documentation can become part of an artwork's manifestation, and over time, artworks can be moved into a mixed form that is part performance and part documentation.
The Q&A session moderated by Osman Serhat Karaman,The Manager of digitalSSM Archive & Research Space, will investigate these questions: "Can documentation replace the artwork?" and "How can we transform documentation into a living and evolving process?"
CONFERENCE PROGRAM (GMT+3)
17.00
The Tension Between Static Documentation and Dynamic Digital Art
Annet Dekker
17.40
In Between Performance and Documentation
Dragan Espenschied
18.20
Q&A
The conference will be held online, in English, on Friday, December 16, at 17:00, free of charge. For registration, please visit Sakıp Sabancı Museum's website.
You can follow the upcoming programs of the conference series on the events page of SSM.