Commemorating the 82nd anniversary of the passing of the great leader Mustafa Kemal Atatürk, founder of the Turkish Republic, an online ceremony will be held on Tuesday, November 10th, 2020, starting at 8:45.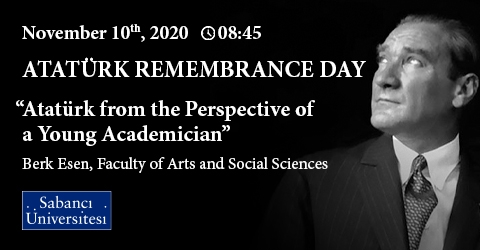 Berk Esen, member of the Faculty of Arts and Social Sciences, will take part in the ceremony with his speech entitled "Atatürk from the Perspective of a Young Academician".
The ceremony will be held in Turkish.
Registration link: https://sabanciuniv.zoom.us/webinar/register/WN_j_xbQVfPSEamX7Fw7jAdPQ