"Industry-Oriented Projects" is an example of university-industry partnership where industrial companies implement projects in association with Sabancı University to address their key priorities.
Started in the Sabancı University Faculty of Engineering and Natural Sciences in October 2016, Industry-Oriented Projects (IOP) achieved 30% growth in its second year with the partnership of industrial companies in a variety of sectors.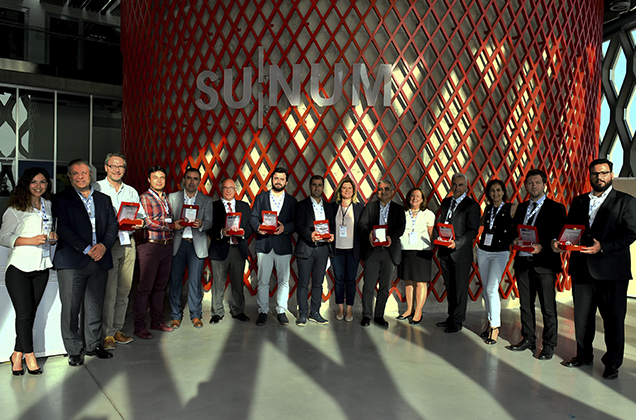 The program is carried out by 4th-year undergraduate students of Sabancı University as part of their compulsory "Graduation Project" with the participating company and Sabancı University faculty acting as advisors. Sabancı University and partnering organizations implement the project together.
Participants in the 2018 Industry-Oriented Projects included automotive design and components, information, electronics, plastics, chemistry, food, personal & home care and cleaning products and durable consumer goods companies such as Airties, Aksa Motor, Doğuş Bilgi İşlem ve Teknoloji, Evyap, Festo, Ford Otomotiv, Lostar Bilgi Güvenliği, Mutlu Akü, Procter & Gamble, Ravago Petrokimya, Siemens, Unilever, and Yongatek. 78 undergraduate students who worked in 24 different projects in 13 participating institutions shared the outputs of their industry-university partnership projects.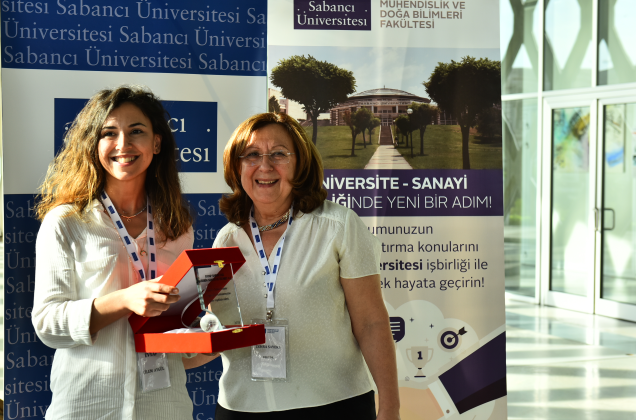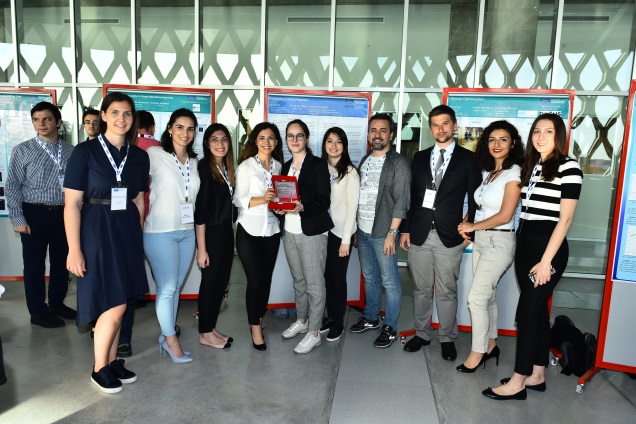 The outputs of the Sabancı University Industry-Oriented Projects designed to foster a new dimension in university-industry partnerships were shared at the 2nd Spring Reception held on Tuesday, May 15, 2018 at the Sabancı University Nanotechnology Research and Application Center (SUNUM). Guests included executives from over thirty companies in various sectors.
Introductory remarks were made by Sabancı University Acting President Professor Zehra Sayers, Sabancı University Faculty of Engineering and Natural Sciences Acting Dean Professor Canan Atılgan, and Sabancı University Faculty of Engineering and Natural Sciences Member and Industry-Oriented Projects founder Professor Yusuf Menceloğlu. Commemorative plaques were presented to project partners after the remarks. The event continued with a cocktail.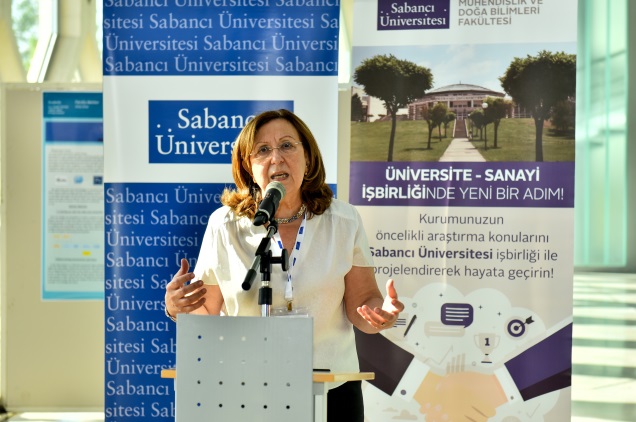 Sabancı University Acting President Professor Zehra Sayers said, "One of the most valuable assets that Sabancı University can provide you is the habit of people from different disciplines coming together to work, and approach problems from different angles. Another important asset of our university is its small, non-hierarchical scale. This means that we are more open and able to communicate with you. Finally, and I mean not to boast, but both our faculty and our students are highly talented people with open minds who can view things from different perspectives. Our professors are masters of the multifaceted approach. Our students are getting there under their guidance. I believe that they will make great contributions to their institutions. Thank you for being here. Our objective is to cooperate with you and expand our work."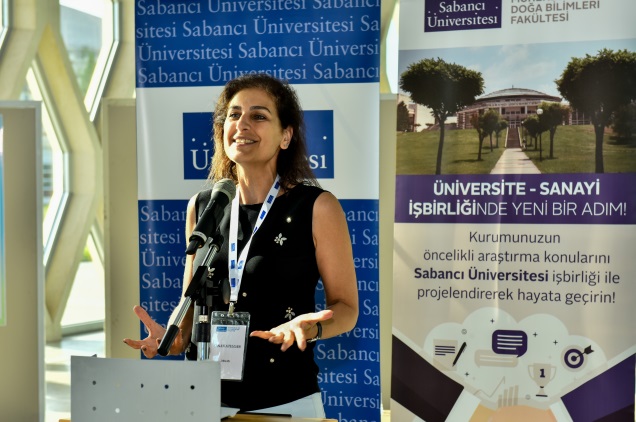 Sabancı University Faculty of Engineering and Natural Sciences Dean Professor Canan Atılgan: "Bringing universities and industries together is a tough job. We are not eager to start with large projects, because the difficulties that may arise in the partnership of institutions with different ways of doing business may be unpredictable. Industry-Oriented Projects do not harbor such risks - in fact, they provide a solution. A small-scale project is the perfect opportunity for us to get to know each other and develop a common working culture. The bridges built by our students makes a pathway to collective thinking on what else we can do and what larger things we can develop."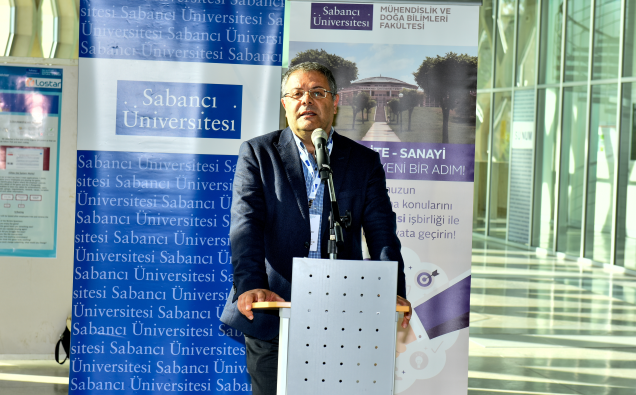 Sabancı University Faculty of Engineering and Natural Sciences Member and Industry-Oriented Projects founder Professor Yusuf Menceloğlu noted: "There are actually three stakeholders here: the industry, students, and us faculty members. Our purpose is to raise good students. The students have a responsibility to become good engineers and be of benefit to society. Meanwhile, the third stakeholder, the industry, conducts the projects they need with a university that cares. We collaborate as a team to achieve these objectives. Since this is a tripartite win-win situation, the number of projects grows year by year."
Students of the Faculty of Engineering and Natural Sciences had poster presentations throughout the event and said that their work with industrial companies enabled them to gain firsthand experience of professional life and was an important step in their careers.
The IOP cooperation model provides many benefits to all parties.
The Sabancı University-industry partnership program enables industrial companies to engage in research projects that require considerable time, human resources and technical ability by cooperating with Sabancı University. Meanwhile, partnering industrial companies are relieved of bureaucratic hurdles and can freely utilize the state-of-the-art research laboratories at Sabancı University in projects conducted by students and coordinated by their advisors. The fourth-year students involved in the project comprise a useful talent pool for prospective employers who find an opportunity to know and train their potential colleagues. One key advantage of the program is that it provides specific and innovative solutions to specific problems, and converts ideas to product.
The IOP process in a nutshell
Interested companies may submit projects in an engineering field of their choice two times a year. All submissions are assessed by a jury panel composed of faculty members. Projects initiated in the fall semester are be implemented and concluded from October to May. Projects initiated in February continue into the next academic year and are concluded in December.
Each industry project has at least two advisors: one appointed by the company, and the other chosen among Sabancı University faculty. Students work on the design phase of the project for the first three months while attending seminars and group work in sustainable development, economics, environmental issues, producibility, ethics, health, social and political issues, project management, risk and change management, intellectual property rights, innovation and entrepreneurship, and work health and safety. Students are expected to utilize their training in their projects.
Sabancı University stated that Industry-Oriented Projects would continue, and called for new submissions to sop@sabanciuniv.edu.
For more information about Industry-Oriented Projects, please visit sop.sabanciuniv.edu.