There will be an information session about the Ph.D. in Management program on Wednesday, December 21st, 2022.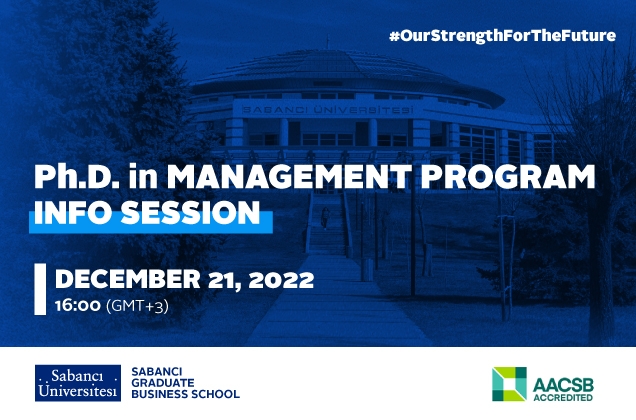 Finans, Örgütsel Yönetim ve Organizasyon, İş Analitiği ve Operasyon Yönetimi alanlarında öğrencilerin kabul edildiği doktora programlarında; öğrenim ücretinden muafiyet, aylık burs, lojman, ulaşım desteği, araştırma fonu, sağlık sigortası ve gerekli veri tabanlarına erişim gibi imkanlar da sunuluyor.
Doktora programıyla ilgili detaylı bilgilere online tanıtım toplantısında ulaşılabilir.
Tarih: 21 Aralık 2022, Çarşamba
Saat: 16.00
Yer: Sabancı Üniversitesi Altunizade Dijital Kampüs'te yapılacaktır. Online olarak da katılım sağlanabilir. 
Her iki katılım için de kayıt zorunludur, kayıt için aşağıdaki linki tıklayabilirsiniz
https://sbs.sabanciuniv.edu/tr/sabanci-phd-management-event-registration
Program hakkında daha fazla bilgi için: https://sbs.sabanciuniv.edu/tr/doktora-programi
Program ile ilgili olarak herhangi bir soru için phdman@sabanciuniv.edu adresine e-mail iletebilirsiniz.