Sabancı University Executive Development Unit EDU continues its steady uptrend in in the institution-specific customized programs rankings announced annually by the Financial Times. EDU, which entered the lists for the first time in 78th place in 2018, ranked 58th in the list last year. This year, it has climbed up 3 places to 55th.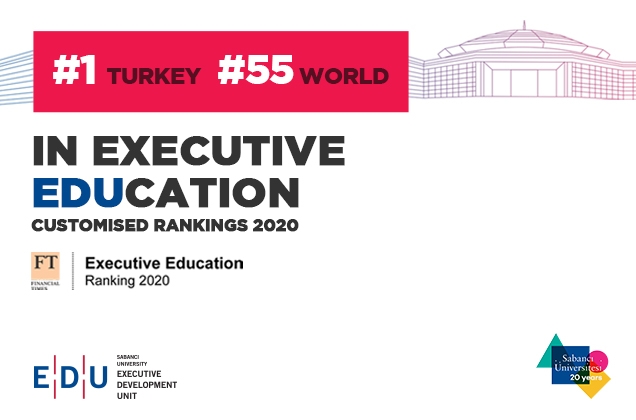 EDU, the first and only institution entering the World rankings list from Turkey, is once again the only institution present in the rankings located in the vast geographic region spreading from Italy to India, as omit in the previous year.
Furthermore, EDU this year also ranks ahead of some of the major schools in the world, such as the University of Texas at Austin, Warwick Business School, McGill University and the University of Toronto.
Evaluating this success, EDU Director Dr. Cüneyt Evirgen commented: "I feel really proud to share this exciting news with you, especially in this period of difficulty we are enduring together. We are moving full speed ahead to produce programs omit and contributing to the development of individuals and the business world with results that enable us to be included in many World lists. Forward we go to future; with the power of education we will achieve this together!"
Second in the world in terms of growth rate!
Another remarkable point worth mentioning in the Financial Times Executive Education-Customized-2020 ranking is some of the other standings determined according to the context of several different particulars included in the evaluation. EDU is ahead of many other schools listed especially based on two of the criteria; second in terms of Growth Rate and 26thin terms of "Future Use" in the world. "Our success in these criteria is a very important because it highlights/references how we put into practice the motto of our university, 'to the future with all our strength with the power of education", says Evirgen. The motto is reflected in the hashtags #tümgücümüzlegeleğe and #eğitimingücüyle.
"Financial Times-Executive Education-Customized" Ranking Criteria
In the ranking study carried out globally, the Financial Times evaluates a candidate by using the information it gathers about the applicant's activities, and by asking questions to the corporate clients it serves. The evaluation criteria include preparatory work, program design, trainers, new skills and learning, teaching methods used, post-program follow-up efforts, achieving company goals, facility resources, and intention to receive service in the future. In addition, international customers served, overseas programs, growth rate, collaborated schools and faculty diversity are also among the criteria.