Organized by Sabancı University Nanotechnology Research and Application Center (SUNUM), the Nano Open Webinars continue with a webinar entitled "Development of Digital Technologies for a Sustainable Future" that will be delivered by Emre Oğuz, Arçelik Executive R&D Director, at 11:00 on Wednesday, March 15, 2023.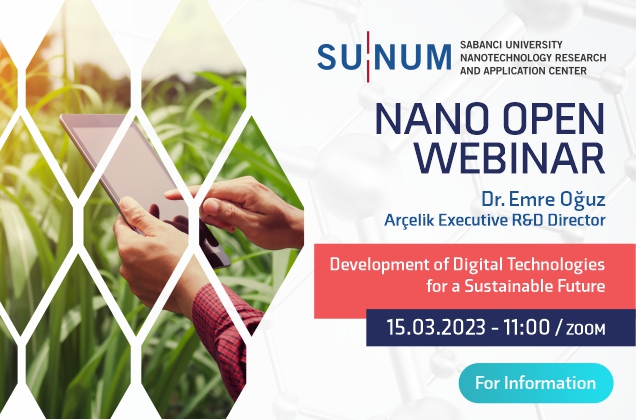 The rapid growth of the world population and the accelerated consumption of natural resources bring many vital problems, especially climate change. Scientific and technical studies in areas such as reducing greenhouse gas emissions, protecting water resources and reducing food waste continue all over the world. Having entered our lives very rapidly in the last two decades, sensors, the internet of things and artificial intelligence technologies offer new possibilities for the solution of these problems. Dr. Emre Oğuz will discuss in the light of the pace of progress and new developments in technologies, the design of sustainable living spaces, new approaches and many innovative solutions come to the fore in order for people to have a better quality of life. 
To register for the Nano Open Webinar that will take place on March 15, 2023 at 11:00 am on Zoom: http://otolab.sabanciuniv.edu/SUNUMActivityRegistrationForm
About Dr. Emre Oğuz
Emre Oğuz was born in Istanbul in 1977, graduated from İzmir Bornova Anatolian High School and started his undergraduate studies at Istanbul Technical University Mechanical Engineering Department in 1994. Dr. Oğuz started his graduate studies in the same department in 1998 upon obtaining his B.S., and he simultaneously started working at the Arçelik R&D Center within the scope of the University-Industry Cooperation Program. He pursued his doctorate studies in ITU Institute of Science, Energy Program while working as an R&D Engineer at Arçelik.
Dr. Oğuz worked as an R&D Specialist between 2008-2011 and Thermodynamic Technologies Team Leader between 2011-2014. He worked as System Development Manager between 2014-2016, and as Mechanical Technologies Group Manager between 2016-2019. Dr. Oğuz assumed the position of Compressor Plant Operations Director between 2019-2020 and was appointed as Arçelik Executive R&D Director as of January 2021.
Dr. Oğuz participated in various innovation and entrepreneurship programs organized by ESADE Business School and Harvard Business School Online. He has published more than 10 international papers, holds more than 20 international patent applications on several subjects, including alternative cooling technologies and environmental effects of refrigerants. He has full support on women empowerment projects in Arçelik to encourage women engineers for working in STEM fields.