European Semiconductor Outlook and two case studies; OCEAN12 & BEYOND5 event, in which we talked about the European Commission "Key Digital Technologies Joint Undertaking (KDT JU)" framework program and the European Semiconductor Industry outlook with the participation of researchers from Fraunhofer Gesellschaft and CEA-LETI, among the leading research institutions in Germany and France respectively, was held on Wednesday, May 24 on our campus with a large audience.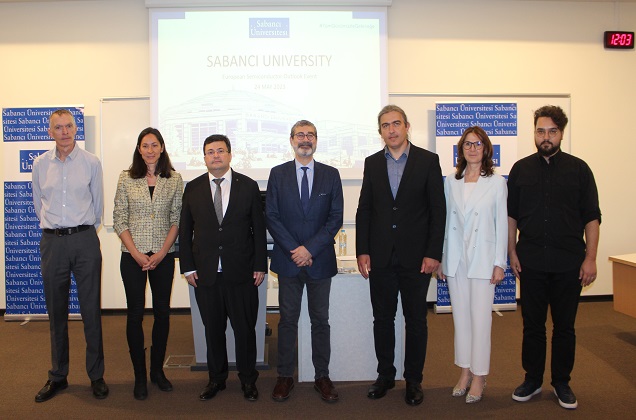 The Key Digital Technologies Joint Undertaking (KDT JU) program created by the European Commission is a program aimed at increasing the technological level of Europe in the fields of communication, ICT and related fields, with semiconductor technologies to the fore.
In the opening speech of the event held on the Sabancı University campus, Ankara Project Office manager Elif Tepeli explained the importance of next-generation AI-supported communication technologies in semiconductor technologies and talked about the support we can give to projects as a university on these issues.
In his speech, our President Prof. Dr. Yusuf Leblebici emphasized the expansion experienced by Asian countries in response to the weakening of the European industry in semiconductor production since the 1990s, and said that it has become an issue with global political implications. He further talked about initiatives such as the European Chips Act and the USA Domestic Semiconductor Investment, in addition to the measures taken to protect the market in the semiconductor field.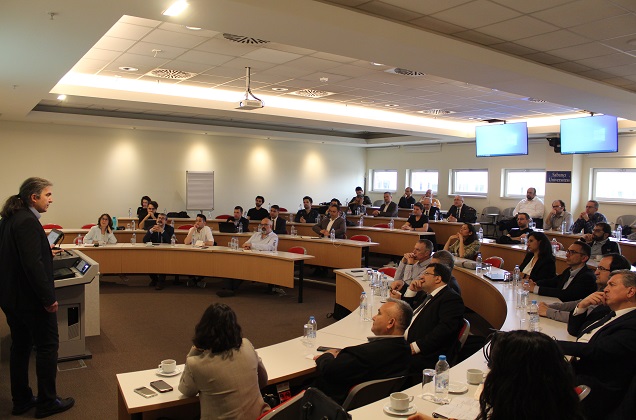 One of the guests of the event, Fraunhofer EMFT researcher Dr. Erkan İsa, talked about the studies carried out for the development of semiconductor technologies in Germany in particular and all over Europe in general, and the details of the BEYOND5 pilot project they carried out under the KDT program in this field. The other guest of the event was CEA-LETI researcher Dr. Dominique Morche, who talked about the studies on the development of European FDSOI technology up to 12nm, and the related OCEAN12 pilot project, which includes low-power processors and components, especially in the automotive field.
Sabancı University faculty member Dr. Kaan Korkut Tokgöz also made a speech and talked about the semiconductor studies he carried out in the field of sub-terrahertz communication, especially for 6G technologies, and the capabilities of our university.
The event was attended by TÜBİTAK Bilgem President Dr. Ali Görçin and more than fifty people from industry organizations such as Aselsan and Vestel.